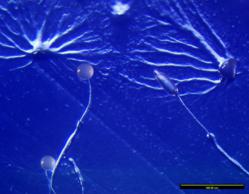 New species represent a growing trend which consists of the discovery of small species which have presumably been overlooked in the past.
Harrogate, Tennessee (PRWEB) February 28, 2013
Lincoln Memorial University's Dr. Adam Rollins, assistant professor of biology, has coauthored a paper in the journal Mycologia which describes 10 previously unknown dictyostelid cellular slime molds from the Central American seasonal rainforests.
Four of the 10 newly discovered species were collected from Belize utilizing LMU's Rainforest Science Cooperative Lab, which is operated under the purview of LMU's Cumberland Mountain Research Center (CMRC) and located on the Belize Foundation for Research and Environmental Education (BFREE) compound. As a member of the Appalachian College Association (ACA), LMU has built a partnership with the non-profit foundation. BFREE is a private research and educational facility located on an 1153-acre reserve in the Toledo District of Belize.
These four newly described species have been named Dictyostelium angelicum, Dictyostelium capillare, Dictyostelium montium and Dictyostelium reciprocatum. They and the six other species described in the paper represent a growing trend which consists of the discovery of small species (2 mm or less) which have presumably been overlooked in the past.
The fieldwork, which resulted in the isolation of the four Belizean species, was partially funded by the LMU Mini-Grants Program. The program provides institutional funds to support faculty and student research efforts. Two LMU students also took part in the activities which led to this discovery. Ultimately, this work falls under the umbrella of a larger collaboration between Rollins and Dr. Ron Caldwell, professor of biology and director of the CMRC, who are examining the potential ecological interactions between slime molds and snails.
Rollins presented these findings with six other researchers in an article entitled New small dictyostelids from seasonal rain forest from Central America, published in Mycologia (10.3852/11-332) on February 8. Dictyostelids are an interesting group of slime molds that emit chemical signals which cause thousands of individual cells to aggregate together and function as a multicellular organism. Ultimately, some of the cells sacrifice themselves to form a stalk. The remaining cells climb to the top and form spores which are eventually dispersed and start the next generation of the organism.
Rollins joined the faculty of LMU's School of Mathematics and Science in 2008. His primary teaching focus is biology. Additionally, Rollins is focused on three areas of research – the ecology and distribution of slime molds; the dynamics of red spruce dominated forests across the highest elevations of the central Appalachians; and the distribution and ecology of fungi. His research has taken him to five continents, encompassing numerous ecosystems including tropical forests, boreal forests, subalpine forests, temperate deciduous forests, grasslands and deserts. Rollins holds a bachelor's degree in biology from Fairrmont State University, a master's degree in forestry from West Virginia University and a Ph.D. in ecology and evolutionary biology from the University of Arkansas.
Lincoln Memorial University is a values-based learning community dedicated to providing educational experiences in the liberal arts and professional studies. The main campus is located in Harrogate, Tennessee. For more information about the undergraduate and graduate programs available at LMU, contact the Office of Admissions at 423-869-6280 or e-mail at admissions(at)lmunet(dot)edu.