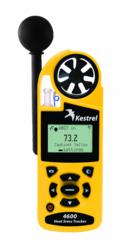 Another key feature of the Kestrel 4600 is the digital compass, which allows users to monitor wind direction for plume prediction.
BOOTHWYN, PA (PRWEB) February 28, 2013
Firefighters, HazMat professionals, emergency services personnel and industrial hygienists are all required to wear heavy protective gear by the Occupational Safety and Health Administration (OSHA) in all types of environmental conditions. However, such heavy, impermeable gear can also become a threat to the safety of these professionals when environmental conditions contribute to the risk of heat stress.
Hot indoor/outdoor environmental conditions, heavy gear and the threat of fire, chemical blasts or combustive materials all contribute to the risk of heat-related injuries, such as heat stress, heat stroke and even death. Fortunately, such risks can be mitigated with proper monitoring of heat-related environmental conditions.
The Kestrel 4600 Heat Stress Tracker, designed and manufactured by Nielsen-Kellerman in Boothwyn, Pa., is at the forefront of providing emergency response personnel with an accurate, rugged and easy-to-use tool for monitoring heat-related environmental conditions. The Kestrel 4600 features Wet Bulb Globe Temperature (WBGT) in a portable, lightweight device that requires no water or time-consuming setup. The Kestrel 4600 can provide accurate readings of WBGT, the most common composite measurement used to determine exposure to heat stress conditions, within minutes of exposure to the environment. The Kestrel 4600 also allows users to activate and set up to six customized heat stress warning zone thresholds to trigger onscreen notifications of dangerous conditions.
Another key feature of the Kestrel 4600 is the digital compass, which allows users to monitor wind direction for plume prediction. Users are now able to carry less equipment and get more accomplished in emergency situations. In addition, the Kestrel 4600 includes a large-capacity automatic data logger, allowing users to record conditions over many hours for on-screen review or computer upload (Kestrel Interface or Bluetooth® Wireless Data Transfer option required). Every Kestrel 4600 comes with a compact (2.5 x 2.5 x 6 in.) padded carry case, which includes a portable vane mount that can be mounted on any tripod for hands-free monitoring. Bluetooth® enabled units can even transmit data to personnel inside a response vehicle.
Visit NKhome.com for more information or click here to pre-order the Kestrel 4600 Heat Stress Tracker.
Kestrel Weather & Environmental Meters are manufactured by NK, which has been building technically advanced environmental instruments for more than 15 years. Kestrel Weather and Environmental Meters are employed by thousands of users to keep them safe and informed as they work and play. Every Kestrel meter is patented, pocket-sized, rugged, accurate, waterproof, easy-to-use and backed by an industry-leading five-year warranty. Available measurements include wind speed, air flow, temperature, humidity, wind chill, heat stress index, pressure, altitude, wind direction, air density and wet bulb temperature. Advanced models in the Kestrel 4000 series add high-capacity data-logging with on-screen graphical recall and optional Bluetooth® wireless data transfer to computers and smart phones as well as specialized features such as a ballistics calculator for long-range shooting and an evaporation rate calculator for concrete placement. Every Kestrel meter is designed, developed, built, tested and supported entirely in the USA. NK is proud to be both a recognized leader in lean manufacturing and process improvement and an award-winning top workplace.
-Know Your Conditions-
For more information, contact Carrie Capili at 610.447.1555 x219, ccapili(at)nkhome(dot)com or visit http://www.nkhome.com.