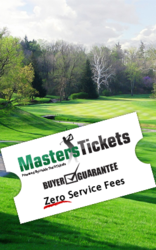 Augusta, GA (PRWEB) February 28, 2013
On February 21, 2013, at Dove Mountain, Marana, Arizona, the number one and number two seeds in the world of golf both fell to their competition in the first round of the Match Play Championship. Tiger Woods, seeded at number two, lost to Charles Howell III. This was his is first lost to Howell in about 75 matches. Before this competition, Howell had never beaten Woods in match play or in any of their other practice matches. The two are good friends and were neighbors for years in Orlando, Florida. It seemed as though Woods was doing well, but just couldn't keep up with Howell's pace, who had sunk three putts of 20 feet and longer.
In another match-up of good friends, Shane Lowry upset Rory McIlroy, the number one player in the world. McIlroy never stopped fighting during his match, but just could not hold on for the win.
Being that the two pros were knocked out early, they decided to have a match play of their own. This past Sunday at The Medalist Golf Club in Florida, Woods and McIlroy played two rounds for a win each. Their overall head to head record with one another stands at two apiece. But with The Masters a short six weeks away, McIlroy has only played three rounds this year that have counted. Both players missed the cut to play in Abu Dhabi, and both lost in the first round of the match play. You can catch Woods and McIlroy in Doral, Florida next week, then at the 2013 Masters Tournament in Augusta, Georgia. Which one of these players will come out on top? Find out at MastersTickets.co, and visit the site for more updates, social media fan sites, and tickets to one of the best tournaments in professional golf.
The highly-regarded entertainment ticket marketplace, Inside Track Tickets, has launched http://www.MastersTickets.co, its newest ticket retail site featuring one of the largest supplies of tickets and hospitality packages to the 2013 Masters Golf Tournament in Augusta, Georgia. Available tickets include Masters Practice round badges, Wednesday's traditional Par 3 competition, and Masters Tournament tickets from Thursday through Championship Sunday. Not only can fans purchase the nearly impossible to find Masters tickets and hospitality packages for great prices, but they can also share their experience with friends and fans by participating in an interactive fan hub and social media experience showcasing an active Masters golf blog at http://masterstickets.tumblr.com that features The Masters Live updates, a Masters Leaderboard 2013, and a Masters Live Stream with video, news, and other constant updates on the golf tournament. MastersTickets.co helps fans plan out their agenda by using the Masters Schedule 2013 and the Masters Golf Tournament course map.