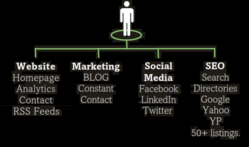 "Social Media delivers kinship between companies and customers, and kinship equals purchase intent." - Jay Baer
Austin, TX (PRWEB) February 28, 2013
AOR Technology, http://www.aortechnology.com, a leading designer of custom Human Resources and benefits websites and portals, today announces that it has developed a comprehensive internet marketing package to provide businesses with a no-hassle, low-cost way to manage their social media marketing efforts. AOR Technology's eMarketing Solution is offered to companies who wish to outsource the time-consuming, difficult task of managing a multi-channel social media, blog, and email campaign.
"Internet Marketing means something different to almost everyone you ask – and every time you hear the term it makes you feel like your business MUST be doing these things in order to grow your business," says Jeff Hill, CEO, AOR Technology. "Internet Marketing includes many things such as Search Engine Optimization (SEO), Social Media, Email Campaigns, and Pay Per Click Ads, and many companies have no idea where to begin. That's where our eMarketing solution comes in - we use our expertise to walk each client through each step of the process, and we do all the work on the back end. And unlike other internet marketing companies, we make this product available to customers at a low price that even small businesses can afford."
AOR Technology's eMarketing package includes the following:
Website / BLOG
Our team creates and implements an agency blog to then add regular posts consistently on industry and agency specific news and events. Updates from you and your team and more are used for content. We email you and your staff monthly to get any upcoming events or news you want communicated. Google Analytics is included or added to your site to track site traffic.
Social Media / SEO
Our team will design and implement and update your social media resources such as Facebook, Twitter and LinkedIn with content automatically in coordination with your blog and email marketing. Your SEO strategy involves being listed and found in 50+ internet directories such as Google Places, etc. 1-2 hours per week are designated to managing for SEO plan – adding new directory listings as they developed and making necessary updates as needed as part of the consistent ongoing effort.
Ongoing Website Updates and Support
Having a connection to the website and keeping it up to date and current is vital for success so we include this ability in the fees above. If you have a web management solution in place we can also simply work directly with them to make sure content is up to date and our resources are incorporated in your site.
About AOR Technology
AOR Technology, Inc. custom designs HR and benefits websites and portals that simplify management, lower barriers to access, and promote effective communications. AOR Technology works with brokers and their employer groups to centralize benefits, payroll, and wellness resources on a single platform, which is accessible via a single sign-on feature, making critical information instantly available from any desktop, laptop, tablet, or mobile device with Internet connectivity. For more information, visit http://www.aortechnology.com.
####
For editorial information, contact:
Jeff Hill
AOR Technology
817-897-0947