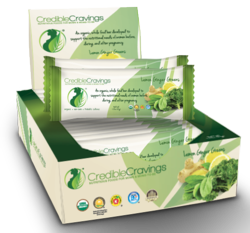 CredibleCravings perinatal nutrition bars are a smart and satisfying solution for meeting the nutritional needs of an expecting or new mom on the go.
CLEVELAND (PRWEB) February 28, 2013
Ganeden Biotech, a recognized world leader in the manufacturing and marketing of probiotics, announced today that its industry leading probiotic GanedenBC30, has been chosen for the first-ever probiotic perinatal food bar.
Finally, an organic snack bar created just for pregnant and nursing women! CredibleCravings is the first organic snack bar carefully formulated under the guidance of obstetricians, nutritionists, and midwives to support the nutritional needs of pregnant and breastfeeding women, and their developing children.
In addition to the probiotic, GanedenBC30, CredibleCravings bars are made entirely from natural ingredients including organic fruits and veggies, sprouted seeds, and contain no artificial preservatives, artificial sweeteners, or chemicals and are gluten-free. The result is perfect sustenance for moms who want a natural source of the nutrients and energy they need for a healthy pregnancy and healthy baby.
"We identified the essential vitamin and mineral needs and ideal energy sources for the perinatal period and looked to nature for fresh ingredients to meet those needs. Next, we put them in a scrumptious snack bar perfect for moms on the go. Each bite is jam-packed with the highest quality ingredients from Mother Earth for Mom and Baby," said Stephanie Baker, Founder of the Southern California-based company.
CredibleCravings did not cut any corners on ingredients, delivering the highest quality product that new moms need and want. "We included top-quality probiotics and kept artificial sweeteners, preservatives and fillers out. Cost was not our driver; the nutritional needs of our consumer took the front seat," Baker said.
Experts welcome a truly healthy option for pregnant women devoid of the common isolates and low quality fortification common in many bars. "CredibleCravings perinatal nutrition bars are a smart and satisfying solution for meeting the nutritional needs of an expecting or new mom on the go," said Meghan Lyons, nutritionist.
CredibleCravings bars are taste-tested and pregnant mom approved. "We know that taste is very important to women, especially around pregnancy. People often say you need to strike a balance between nutritional integrity and taste, but we prove that nutrition doesn't need to come at the expense of flavor," Baker said.
To fit the ever-changing cravings of a pregnant woman, CredibleCravings debuts in three varieties:
Decadent: Chocolate. The antioxidants, B vitamins and bevy of minerals in organic cacao make this a go-to bar for those intense chocolate cravings.
Refreshing: Lemon Ginger Greens. Organic Lemon and Ginger infuse this bar with palate-pleasing flavor while easing nausea and upset stomach.
Energizing: Oatmeal Cranberry. Tart organic cranberries deliver a wake-up call to the taste buds, while sprouted, organic gluten-free oats contain B vitamins, iron, potassium and fiber – providing energy and helping to regulate digestion, especially important during the perinatal period.
As part of its mission to promote perinatal nutrition, CredibleCravings has partnered with The Barker Foundation, which is committed to ending chronic disease by informing proper perinatal nutrition through public engagement, training and research.
"We are thrilled to partner with such a unique product that helps deliver GanedenBC30 to pregnant women and their developing babies. Research shows that our probiotic supports healthy digestion and immunity, both vital to mothers and baby," said Mike Bush, Vice President of Business Development for Ganeden Biotech.
About GanedenBC30
GanedenBC30® is a probiotic bacteria. Probiotics are live microorganisms which, when administered in adequate amounts, confer a beneficial health effect on the host. GanedenBC30 is a patented, gram positive, spore-forming, lactic acid producing strain of Bacillus coagulans. GanedenBC30 (Bacillus coagulans GBI-30, 6086) has received a GRAS no-objection letter from the US FDA and it can remain viable through processing, shelf life and the low pH of stomach acid. Unlike other probiotic strains used in food and beverages, GanedenBC30 highly stable, has been shown effective in 17 peer reviewed, published papers and it is shelf stable for up to three years.
About CredibleCravings
Our mission is to educate our community about the importance of good perinatal nutrition, to provide healthy, natural products that promote the health of mom and baby, and to inspire a healthful community that shares our passion to promote the wholesome well being of our future. Visit http://www.crediblecravings.com for more information.