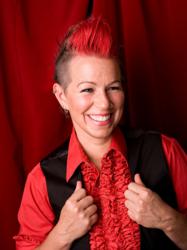 Santa Fe, NM (PRWEB) February 28, 2013
Santa Fe University of Art and Design (SFUAD) announced today that Canadian folk singer-songwriter Kate Reid will perform on campus March 6 as part of its Artists for Positive Social Change series. The series theme for the 2012–2013 academic year is "Art and Political Activism."
In addition to performing for the SFUAD campus community, Reid will also participate as a guest lecturer in the Explorations of Self class and the Women's Voices, Feminist Visions class, and she will host a writing workshop for freshmen students studying the interface of culture and gender. Contemporary music student Caitlin Brothers ('15) will perform as the opening act for Reid; Brothers is a singer/rapper for the student band Inter-City Connection, which opened for Public Enemy on campus last April.
"I love New Mexico and I love the university," said Reid. "I'm excited to be coming back." Originally from Vancouver, Reid first visited SFUAD last spring at the invitation of Dr. Corine Frankland, chair of the Liberal Arts Department.
Reflecting on Reid's visit last year, Frankland said, "Kate brought tremendous energy to the classroom setting. She performed her very personal and often hilarious songs for my students, ultimately creating a safe and comfortable space to address issues of sexuality, homophobia, gender identity and human rights. Many of my students are aspiring musicians, and they appreciated Kate's accessibility, humor and willingness to share the challenges and gifts of living one's dream and staying true to one's artistic calling."
Reid is known for addressing activist causes through music, which she has called "slam poetry meets folk." Her inspiration lies with folk, country and rock, including legends such as Tracy Chapman; Indigo Girls; Johnny Cash; Peter, Paul and Mary; Dixie Chicks; the Allman Brothers Band; Bob Dylan and Neil Young, along with comediennes Ellen DeGeneres and Margaret Cho. She tours regularly across Canada and at U.S. festivals, Pride parades, live music venues, secondary schools and universities. Her notable songs include "Closet Femme," "Doing it for the Chicks," "Captain Cupcake and the Cambie Hotel," and "The Only Dyke at the Open Mic."
"I definitely like shaking up opinions and perceptions," Reid has said. "And yet, it seems that my lyrics resonate with people from all walks of life, because the songs aren't really about being queer, they are about being human. I also love seeing people howl, tap their feet and respond to what I am singing about, whether they get teary or they bust a gut laughing. That's when I know I am doing my job right."
Reid received a Toronto Independent Music Award nomination for Best Acoustic Album (2010), was voted "Favorite New Discovery of 2009" by Penguin Eggs magazine critics (Canada's folk, roots and world music magazine) and received a Canadian Folk Music Award nomination for Best New/Emerging Artist of the Year (2009).
In other Artists for Positive Social Change events, the university welcomed graphic designer Shepard Fairey to campus Feb. 17–20 when he gave a lecture and Q&A and worked with students to create a permanent campus mural. The anti-war Al-Mutanabbi Street Starts Here exhibition also debuted in February and runs through March 22. The culminating event in this year's Artists for Positive Social Change series will take place April 27, when two student bands mentored by artist-in-residence Brian Hardgroove will open for Latin-fusion rock band Ozomatli.
A limited number of tickets to the March 6 Kate Reid concert will be available to the public free of charge. It will take place at 7 p.m. in the O'Shaughnessy Performance Space in Benildus Hall of the SFUAD campus. For more information, contact 1-505-473-6196.
About Artists for Positive Social Change:
Santa Fe University of Art and Design's Artists for Positive Social Change is a groundbreaking, university-wide series of events, lectures and performances that highlights one theme each year as part of a five-year initiative. All departments of the university engage in an in-depth exploration of the chosen theme, discussing the work of relevant artists who have respectfully and fearlessly pushed the creative boundaries of their medium. During the initiative's inaugural 2011–2012 academic year, Artists for Positive Social Change focused on hip-hop not just as entertainment, but as a significant form of communication and a cultural force around the world. This year's theme is "Art and Political Activism."
About Santa Fe University of Art and Design:
Santa Fe University of Art and Design is an accredited institution located in Santa Fe, New Mexico, one of the world's leading centers for art and design. The university offers degrees in arts management, contemporary music, creative writing, digital arts, graphic design, film, performing arts, photography and studio art. Faculty members are practicing artists who teach students in small groups, following a unique interdisciplinary curriculum that combines hands-on experience with core theory and prepares graduates to become well-rounded, creative, problem-solving professionals. As a Laureate International Universities Center of Excellence in Art, Architecture and Design, the university boasts an international student body and opportunities to study abroad, encouraging students to develop a global perspective on the arts. Santa Fe University of Art and Design is accredited by The Higher Learning Commission and a member of the North Central Association, http://www.ncahlc.org.