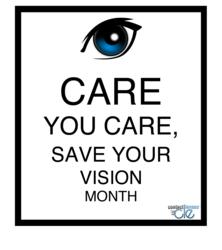 Only you can help save your vision, so make sure you have a yearly eye exam and be conscientious about digital eye strain and take the proper steps to help reduce digital eye strain
Elmsford, New York (PRWEB) February 28, 2013
New York based Eye Care Associates enters its 14th year in business online as the operator of CleContactLenses.com, an online e-tailer that sells contact lenses, contact lens removers, contact solution and other items that are eye care related.
CLEContactLenses.com is supervised by a team of eye care professionals, Ophthalmologists, Optometrists, and Opticians to best service their patients' needs and questions.
Some may not be aware of this, but the month of March is Save Your Vision Month. According to CLEContactLenses.com the best way to protect your eyes is to havet a comprehensive eye exam each year. By doing so, one could detect a vision problem and prevent, delay or even reverse its progression depending on the prognosis.
Another way to save your vision is by being cautious in today's digital era. It has been recently talked about the strain our eyes take from continuously looking at our computer screens, oversized televisions and other handheld digital devices improperly to the point that this past January at the Consumer Electronics Show, the Vision Council helped raise awareness of digital eye strain, so that consumers keep this in the back of their minds while shopping for that next large screen television or handheld device.
Earlier this week CLEContactLenses.com published a blog post informing its visitors and customers about how the month of March is Save your Vision month to help create more awareness so that everyone can at a bare minimum have their eyes checked and if not be more cautious of bad habits they may have developed.
The published blog post by CLEContactLenses.com provides much detail about prevention and steps one can take to help save their vision. Within the article, CLEContactLenses.com reaches out to computer users since their group are the ones who are widely reported with digital eye strain. CLEContactLenses.com provides computer users simple corrections they can perform to help save their vision. CLEContactLenses.com also provided steps on the 20-20-20 rule. For all those that do not know what the 20-20-20 rule is, it is an eye exercise one should practice to help reduce eye strain.
The published article about Save Your Vision Awareness month can be viewed here on CLEContactLenses.com Blog.
To help celebrate Save your Vision awareness month, as well as the upcoming March Madness of College Basketball, CLEContactLenses.com is offering free shipping within the US for all orders that are placed between March 1-3. In order to take advantage of CLEContactLenses.com free shipping offer, one will need to enter the following coupon code during checkout: 142994436
PJ from CLEContactLenses.com says "Remember only you can help save your vision, so make sure you have a yearly eye exam and be conscientious about digital eye strain and take the proper steps to help reduce digital eye strain."
CleContactlenses.com is based out of Westchester County, NY and has offices in New York City and Mahwah NJ. CleContactlenses.com has been in business online for the last 15 years selling Acuvue contact lenses, contact lens removers, contact solution, eye vitamins and all things eye care related.