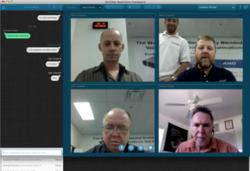 StarVideo underscores the power and flexibility of our Application Framework, and there are many more applications in the pipeline.

Las Vegas, NV (PRWEB) February 28, 2013
Star2Star Communications, makers of "The World's Most Complete Communications Solution", today announced StarVideo™, a video conferencing tool for users of the company's StarSystem communications system.
StarVideo provides on-demand videoconferencing for up to 12 users. The voice portion of StarVideo operates over Star2Star's' award-winning Constellation™ voice infrastructure, which assures clear, crisp audio for all participants. Users without access to a video camera or computer system can still participate in conferences by dialing into the audio portion of the conference from any phone.
"We're pleased to bring this exciting new functionality to our users", said Norman Worthington, CEO of Star2Star. "StarVideo underscores the power and flexibility of our Application Framework, and there are many more applications in the pipeline", he continued.
StarVideo includes an adapted version of Star2Star's multi-user, multi-session text chat. Users can conduct group and sidebar discussions via text chat without disrupting the main videoconference. StarVideo also allows users to share, collaborate and comment on virtually any type of document via a whiteboard feature.
StarVideo is delivered as a Starlet application in the Star2Star Application Framework, the same technology behind the company's StarScope 2 presence management and StarFax Personal fax solutions. Starlets are delivered seamlessly to users with no installation and no administrative overhead.
About Star2Star Communications:
Founded in 2006 in Sarasota, Florida, Star2Star Communications develops and delivers the World's Most Complete Communication Solution™. Star2Star's Integrated Communication and Collaboration solutions allow productive people to work together, no matter where they are.
Star2Star systems unify customers' voice, fax, videoconferencing, and instant messaging communications into a single, easy-to-use system. Star2Star's award-winning, patent-pending Constellation™ technology overcomes the reliability and quality limitations of other Internet communications technologies.
Star2Star was recently named to the Inc. 500 for the second time. The company was also named as one of Forbes Most Promising Companies, and as a Deloitte Technology Fast 500 company.
Star2Star products are sold through a diversified international network of distributors, master agents, and certified installing dealers. Available across North America, Star2Star communication systems are installed in tens of thousands of businesses and in many large national retail and restaurant chains.