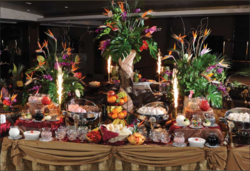 "I am thrilled to bring Chris Palmer on board as our executive chef, as his reputation as an innovator is sure to continue the Crest Hollow's tradition of a five-star cuisine experience for every guest." - President Richard Monti
Woodbury, NY (PRWEB) February 28, 2013
The Crest Hollow Country Club warmly welcomes Chris Palmer as its new executive chef to oversee all of the club's events and occasions. A renowned chef who has made his mark on the Long Island and New York culinary landscape for more than two decades, Palmer proudly brings his vast experience and unique style to the Long Island banquet hall.
A standout graduate of the Culinary Institute of America, Chef Palmer is known for his ability to update classic culinary styles in an unintimidating way. His illustrious culinary career includes the world famous Garden City Hotel; Shelly Fireman's Cafe Concepts, which owns and operates the Redeye Grill and Brooklyn Diner in New York City; the Vanderbilt in Plainview and the double-decker Landmark Diner in Roslyn, which was lauded by The New York Times for "reinventing an entire genre of dining." Palmer was also voted for "Best Chef" honors by readers of the Long Island Press in 2011 for his reinvention and reimagining of classic diner food at the Landmark Diner.
Now the executive chef at the largest and most enduringly successful hospitality establishment on Long Island, Palmer considers his current position "the ultimate reward for a diverse and fulfilling career" in a field he loves passionately.
"Crest Hollow brings together what I believe are the three most important values in hospitality: having a well-trained staff that's eager to please, a strong operation that runs like a well-oiled machine and a rich history and commitment to superior customer service," he explains.
Palmer will be overseeing the Crest Hollow Country Club's five-star nouveau cuisine, which includes classic American offerings as well as Italian, Greek, Latin, Caribbean, Asian, Russian, Indian and Persian. The Long Island catering hall also offers brunch, lunch and dinner packages that are designed to delight guests, coupled with the impeccable white-glove service and attention to detail that have been the hallmarks of the Monti family for generations. From casual cocktail receptions in a lounge-inspired venue and get-togethers on the beautiful South Beach-inspired pool deck to elegant sit-down dinners for up to 700 guests in the gleaming Grand Ballroom, Palmer will help ensure that all guests of the Crest Hollow enjoy a dining experience as fabulous as the lush surroundings of the 24-acre venue.
"I am thrilled to bring Chris Palmer on board as our executive chef, as his reputation as an innovator is sure to continue the Crest Hollow's tradition of a five-star cuisine experience for every guest," said Richard Monti, president of the Crest Hollow Country Club.
The Crest Hollow is currently booking events of all sizes and for all occasions, from weddings to bar/bat mitzvahs to corporate events for 2013 as well as 2014. For more information about holding an event, please visit the Crest Hollow Country Club website or call 516-692-8000.
About The Crest Hollow Country Club
Located in Woodbury, NY, The Crest Hollow Country Club is more than a premier Long Island catering hall; it's a wedding venue like no other. Family-owned and -operated, The Crest Hollow has been dedicated to bringing fine cuisine and superior service to Long Island for more than 40 years. From outdoor settings to elegantly appointed rooms, The Crest Hollow is dedicated to making every wedding feel like the celebration of a lifetime.