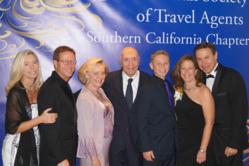 Company President Joe McClure expressed, "It is truly an honor to be recognized by our peers in the travel industry, just as it is an honor to serve our customers and fulfill their travel needs."
Montrose, CA (PRWEB) February 28, 2013
The McClure family, owners of Montrose Travel, a $160+ million full-service travel and host Travel Management Company, was recently awarded the prestigious 2012 Diamond Award by the American Society of Travel Agents, Southern California Chapter (SoCalASTA). The annual award honors professionals and other entities that have made "outstanding, unique, lasting and extraordinary contributions to the travel industry," according to the organization. More than 120 guests attended the sold out black-tie gala, held at the Peninsula Hotel in Beverly Hills on January 12, 2013.
SoCalASTA presented the McClure family with the Diamond Award for their leadership role in the travel industry in Southern California, "and for providing quality service with a high degree of professionalism while maintaining the personalized element with the traveler, embodied by their motto: 'Helping people travel. One at a time.'"
In business since 1956, Montrose Travel was purchased by Joe Sr. and Leora McClure in 1971 with annual sales of $300,000. With sound business principles and ethical values, the business grew to $6 million in annual sales by 1990, when the couple sold the business to their son Joe III, daughter Andi, and Joe's wife Julie (a CPA who serves as the company's Chief Financial Officer). Today the business has grown to become a Top 50 Travel Management Company with over $160 million in sales, 150 employees, and more than 500 independent contractors.
Company President Joe McClure expressed, "It is truly an honor to be recognized by our peers in the travel industry, just as it is an honor to serve our customers and fulfill their travel needs – they have made us what we are today, and we will always strive to maintain and enhance the personal service we are being honored for by SoCalASTA."
Over the past decade, Montrose Travel has very successfully integrated modern travel products like online booking with the sort of high-touch personalized service that is becoming increasingly rare. "We have always been a very forward-looking travel management company," says McClure. "Our team of associates has built a world-class online booking engine that competes in every way with the biggest online travel agencies, and we work hard to deliver an online experience that exceeds what our competitors provide – both in terms of user experience and travel product offerings."
But McClure was quick to add, "At the same time, the personal touch that only a real human travel agent can deliver will never go away. It's not a niche. It's a fact of life. Travel is inherently personal. At the end of the day, customers want to know that someone has their back, and that's where travel agents come into the picture. Travelers also value the personal experience of a certified agent when looking for recommendations on where to stay and how best to get to their travel destination. We aim to take away the work in finding and booking your dream vacation."
McClure points out that this personal touch is especially important to the luxury traveler. "A luxury cruise or river cruise is a high-ticket travel product, and luxury-oriented customers expect a high degree of service and expertise. They also want the best value, and true value is often more easily conveyed person-to-person rather than online."
Andi McClure, Joe's sister and co-President of Montrose Travel, spearheads the rapidly growing MTravel division, which boasts an army of more than 500 independent home-based agents, some new to the travel industry and some who are highly experienced. "The SoCalASTA Diamond Award is meaningful to Montrose Travel, our family, and to all the dedicated home-based agents the company hosts. These agents take the company's commitment to exceptional service -- and the personal touch we pride ourselves on -- and bring it to their local communities."
The MTravel division also hosts an annual convention where its home-based agents come from all over the United States to gain valuable training and product knowledge from major cruise lines and vacation travel providers. Andi McClure explains, "Our annual convention is an extraordinary opportunity for our agents to acquire the tools they need to provide the best in customer service. We want every one of them to achieve success, and that comes with building their business just as my parents built Montrose Travel – with a desire to deliver the very best to their customers."
All three McClure's acknowledge that it's the Associates at Montrose Travel that have made the company what it is today. Each person that works with the company has this very special thing they like to call "Montrose DNA", and with it comes a deep-seated passion for greatness.
ABOUT MONTROSE TRAVEL
Celebrating 56 years in business, Montrose Travel, a family-owned travel management company, has grown from 14 employees in 1990 to more than 150 today and is now firmly established as a Top 50 Travel Management Company and a Top 5 Host Agency nationwide at $160+ million in sales. Montrose Travel strives to provide the highest quality services and most complete vacation, corporate travel, loyalty and group travel management solutions for its customers and home-based travel agents. Montrose Travel "will be here tomorrow to back up our promises of today!" Montrose Travel can be reached at 1-800-MONTROSE (666-8767) or by visiting http://www.montrosetravel.com. Visit Montrose Travel's Corporate Division at http://www.montrosecorporatetravel.com or call 1-800-766-4687. Home-based independent agents may visit http://www.MTravel.com, email andi(at)montrosetravel(dot)com, or call 1-800-870-5799. CST#1018299-10
ABOUT ASTA
The mission of the American Society of Travel Agents (ASTA) is to facilitate the business of selling travel through effective representation, shared knowledge and the enhancement of professionalism. ASTA seeks a retail travel marketplace that is a profitable, growing and rewarding field in which to work, invest and do business.