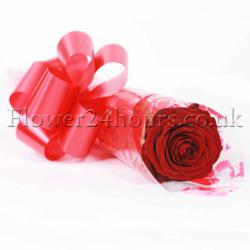 (PRWEB UK) 28 February 2013
International Women's Day is one of the most significant gifting events for florists around the world. Falling on March 8th every year, the festival is celebrated by the Eastern Europeans, the Chinese and the Africans. The event began in the 20th century as a socialist campaign day for Women's rights, now the special celebration is a day of giving flowers gifts for every woman!
International Women's day is not limited to love relationships or mothers. Gifts of flowers also include offerings to daughters, grandmothers, aunts, cousins, friends and even female work colleagues.
Flowers24hours is an online florist based in South London and has a newly developed range of gifts which are perfect for sending on Women's Day. The florist has catered to the traditions of the event whilst keeping in line with current trends. The companies flower selection includes the favoured red roses, tulips and lilies. The florist have also included odd number bouquets such as 11 best red roses, and 17 red roses as this is a sign of good luck.
'The Women's Day celebration has recently become much more popular in the United Kingdom' says head florist Kalina Lokinska 'As the eastern European communities have settled within the UK it seem British women have not wanted to miss out on a celebration where they can receive a flower as a gift, we have a selection of gifts which range from single flowers to large impressive bouquets, we are confident that our gifts are perfect for every woman.
Flowers24hours are offering a single red rose for Women's Day for as little as £12.49 including delivery. The online gift shops are also selling champagne, wine and chocolate gifts as well as beauty bath sets.
Flowers24hours were the first of their kind to offer same day delivery to London and next day delivery nationwide. The company will be delivering flowers same day for Women's day and are currently holding a special promotion where customers can receive free Lindt chocolate truffles when orders are placed online before 6th of March for delivery on the 8th of March.
About Flowers24hours
Flowers24hours.co.uk is an online florist based in South London. The florist has beautiful flower bouquets and gifts which are perfect for every season. Flowers24hours stocks Anniversary flowers, birthday flowers, new baby flowers and gifts, Valentines flowers, Mother's day flowers, Women's day flowers as well as much more. The company has a large online catalogue which is available for same day delivery to London.