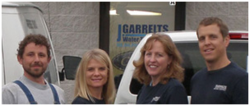 I know my customers will recognize the value and appreciate the vast water savings found with a LINX system.
San Carlos, CA (PRWEB) February 28, 2013
Pionetics Corporation is excited to announce a new Pionetics Dealer, Jim Garrelts of Garrelts Water in McHenry, IL. Garrelts Water is a water treatment and service company that has been in business for 21 years. They specialize in sales, service, and rentals of water softeners, filters, and reverse osmosis systems. Garrelts Water also offers a salt delivery service. They service customers in Northeastern Illinois. Read more about this newest dealer at http://www.garreltswater.com/
Jim Garrelts, President of Garrelts Water, learned about the LINX system from a fellow water treatment professional. Garrelts was impressed by the water savings offered by the LINX systems as compared to the traditional reverse osmosis filters. "While the LINX Systems are slightly more expensive than our traditional RO, I know my customers will recognize the value and appreciate the vast water savings found with a LINX system," confirmed Jim Garrelts. Garrelts goes on to say, "In addition to the water savings, having a drinking water system where my customers can actually dial their taste preference is truly original and exciting. No one else can offer them a system that does this."
According to H. Martin Jessen, Vice President of Pionetics Corporation, "Innovative and forward-thinking businesses like Garrelts appreciate and understand how important it is to offer the most technologically-advanced products without sacrificing quality or our precious water resources." Jessen continues, "We are thrilled to be building partnerships with small businesses that value and appreciate the importance of water conservation."
As a new dealer, Garrelts is still in the process of informing his customers about the LINX systems and their benefits. He plans to promote the LINX Systems on his website http://www.garreltswater.com/.
LINX Drinking Water Systems are now available in two Under-the-Sink models or as a Bottleless Water Cooler. The systems allow for several important and unique features not offered by any other drinking water system:

Significantly less water waste than Reverse Osmosis (RO) – see the video Insane Water Waste,
Operates using programmable software and display indicator lights that provide the consumer with detailed yet simple information about the system status,
Dial-A-Taste® Control that allows the consumer to customize the taste of their drinking water for more or less mineral content.
Field Service Assistant which enables the technician to reprogram the LINX unit based on feedwater quality, further optimizing water recovery rates, customizing the system's performance, and maximizing effectiveness and efficiency.
Simplicity of installation and servicing of the equipment.
Pionetics is currently signing new distributors and dealers. LINX technology is also available for integration with existing systems. Anyone interested in the LINX technology, or in becoming a distributor or dealer anywhere around the world, should contact H. Martin Jessen at 480-836-0887.
About Pionetics Corporation:
Pionetics is an innovative water technology company that develops smart water treatment products that produce great tasting, safe drinking water with less wastewater than traditional water treatment systems. Pionetics is privately owned and financially backed by Kline Hawkes & Co, NGEN Partners, and Unilever Technology Ventures Fund.
Pionetics is located in San Carlos, CA. To date, Pionetics has been issued over 50 patents worldwide to protect its proprietary know-how and innovative technology.
Contact: H. Martin Jessen
480-836-0887
mjessen(at)pionetics(dot)com