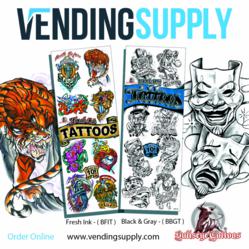 "Bullseye Tattoos is one of our most popular brands," said Heather Gacey, Senior Account Manager for Vending Supply. "The addition of these two new lines, each comprised of 10 tattoos, gives us a total of eight selections from the artists at Bullseye."
Tucson, AZ (PRWEB) February 28, 2013
Vending Supply, the premier manufacturer of US-made temporary tattoos and stickers for flat vending machines, has released two exciting new temporary tattoo and sticker lines for spring. A division of Tattoo Manufacturing International, Vending Supply is expanding its popular Bullseye Tattoo series just in time for on-the-beach season.
"We are gearing up for spring and summer, one of the busiest seasons for our vending products," explained Melissa Mouradian, Business Development Manager for Custom Products. "In addition to these new products in our Bullseye Tattoo series, we will be expanding with several new temporary tattoo and sticker releases later this spring, including a Neon series, Glitter Disney Princesses and Skull Punkz," she said.
The first spring 2013 releases include new designs from the Bullseye Tattoo series:

Bullseye Black and Gray Tattoos (BBGT): These bold, urban designs appeal especially to young adults, and
Bullseye Fresh Ink Tattoos (BFIT): This line of full-color designs is a unisex series.
The designs come from the artists at Bullseye Tattoos, ranked the number one tattoo art design creation and distribution company in the industry. Bullseye's diverse talent pool includes more than 100 artists from across the globe.
"Bullseye Tattoos is one of our most popular brands," said Heather Gacey, Senior Account Manager for Vending Supply. "The addition of these two new lines, each comprised of 10 tattoos, gives us a total of eight selections from the artists at Bullseye."
Customers can take advantage of free shipping on orders of 20 boxes or more.
Vending Supply continues to produce popular Super Scented tattoos. The berry scent stays on the skin for three or more days. Vending Supply is proud to be the only temporary tattoo manufacturer that offers scented tattoos for sale in vending machines.
About Vending Supply
Vending Supply is the premier manufacturer of US-made temporary tattoos and stickers for flat vending machines. Vending Supply is a division of TM International (TMI Acquisition LLC), the largest manufacturer of temporary tattoos in the world. The company designs and manufactures all of its products in Tucson, AZ and serves many markets. The company's products are sold under the SAVVi, Tattoo Manufacturing and Vending Supply brand names. Products are non-toxic, hypoallergenic, use FDA certified colorants and comply with CSPC and ASTM requirements. All products exceed U.S., Canadian and EU safety standards. The company's products have a worldwide reputation for quality. Visit Vending Supply call 800-315-9849 for more information or email sales(at)vendingsupply(dot)com.