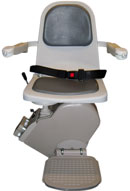 Purchasing one of these highly affordable mobility lifts can save the customer up to $1000.00 or more.
Port St Lucie, FL (PRWEB) February 28, 2013
For over 10 years now the Home Lift Store has been offering stair lifts for professional installation. However, due to the recent recession, the raging popularity of internet shopping, along with the ever-expanding "Home Depot demographic," a new demand for a DIY (Do-It-Yourself) model has emerged. This vastly growing demographic represents handy individuals who enjoy working on their own projects around the house, and therefore do not have the need or desire to spend additional hundreds of dollars hiring a professional to install a stair lift in their home. They would prefer to purchase a model they could install themselves at their own convenience. The Home Lift Store has announced that such a model is now available.
Only recently has this type of mobility lift been made widely available, as most manufacturers have only allowed their stairlifts to be professionally installed, forcing many customers to spend hundreds of dollars more on an unnecessary expense. But all that is in the past now that the Home Lift Store offers a line of DIY stair lifts for both indoor and outdoor applications. Purchasing one of these highly affordable mobility lifts can save the customer up to $1000.00 or more – a huge advantage during these difficult economic times. They are also easy to install, requiring only a couple hours of time and a few basic tools.
For indoor applications the Home Lift Store now features the Brooks Lincoln manufactured by Acorn – one of the leading manufacturers in the stairlift industry. The Brooks indoor stairlift has a 300 lb. weight capacity and includes a lifetime manufacturer's warranty on the motor. Additionally, customers will enjoy premium features such as smooth start/stop operation, folding seat, arms, and footrest, a state-of-the-art digital diagnostic display, as well as a D/C motor that will operate even during a power outage.
A detailed, step-by-step installation manual is included. However, to make the installation process even easier, an instructional DVD is included to give the consumer a basic overview of what is involved, in essence, taking the mystery out of the project.
For outdoor applications the Home Lift Store features the Acorn Superglide. This model is similar in appearance to the Brooks Lincoln, but is manufactured and designed specifically for outdoor use. For example, a vinyl seat and back cushion replace the fabric cushions on the indoor model. Also, the gear rack has been anodized to inhibit corrosion, and various "nuts and bolts" on the indoor model have been replaced by stainless steel/galvanized counterparts on the outdoor model. Additionally, a protective cover is included to add even further protection against the elements.
To purchase a stairlift, or to learn more about this product, please visit http://www.homeliftstore.com. The Home Lift Store is a division of New Line Products, LLC. Its founder, Dennis Corrado, has over 10 years experience in the mobility lift industry, including installation, service, and troubleshooting.