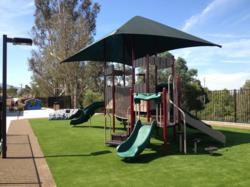 Custom designed playground structure by Sun Country Systems, for new Riverside County playground project
Riverside, California (PRWEB) February 28, 2013
A recently opened Christian school in the Corona Norco area of Riverside, California contracted with Riverside commercial playground equipment company Sun Country Systems to not only design, but to provide and install its beautiful new playground. The owners of the school wanted to ensure that they built the best, safest and most innovative playground they could for their new school.
As the playground is intended for ages 2-5, Sun Country Systems designed for the owner a Voltage play structure that had many fun components such as our buckle bridge, charade panel, pod walk, rock crawl and four playground slides. The slides included on this structure were our rock n roll slide, viper slide and triple rail slide. The play area also contains several stand alone events including a 2 seat arch swing, funnel ball, Rockit Tunnel and new Turtle top sand box. The new turtle top sand box is unlike any other sand box on the market. It has a hard top that drops down and closes to protect the play area sand when not in use. The structure was also designed to include a 15'x21' rectangle shade play shade structure to protect the little children from the harmful UV rays. Synthetic grass manufactured by Ameriturf Systems was installed under the playground area, giving the area the look of a real park.
Aside from this recently finished project in Corona Norco, Sun Country Systems has many playground equipment projects in either the planning stages or construction phase in Riverside County. Company President, Tim Hollinger, states, "We use only the best and safest products on our playground projects. We want to design and build playgrounds that promote play that keeps children engaged, active and moving." He went on to explain that Sun Country Systems works closely with each of their customers to ensure that they get the right playground and protective surfacing. "We make sure that they get the products in the colors they want and within their budget. We give careful attention to every detail. "
Every customer wants their playground to be unique, and we work diligently to make sure they are completely satisfied with the finished project. There is nothing more rewarding then watching the children play on our finished playground projects, from swinging on the arch swing, climbing on our rock crawl and going down any of our slides all while playing under our shade structures and being protected from the sun's harmful rays. The majority of our customer's chose synthetic grass as their playground protective surfacing, we feel that the synthetic turf we provide which is manufactured by Ameriturf Grass Systems is the most esthetically pleasing surfacing as well as being the most cost effective surfacing available.
More Information about Sun Country Systems, Inc.:
Sun Country Systems, Inc. corporate office is located in Santa Clarita, in the County of Los Angeles. It has offices in Chino and San Jose so it can provide its turn key services to all of California. The company has provided commercial playground equipment, safety surfacing, shade canopies and site amenities to parks and recreation departments, public and private schools, daycares, property management companies, apartment complexes, military bases and churches throughout Riverside, Imperial, San Bernardino, Los Angeles, San Diego, San Bernardino, Kern, Ventura, Stanislaus, Alameda and Sacramento for over 15 years. As a total turn key company it carries a full line of products to provide its customers' with all of its needs in the planning, design, purchase and installation of its playground project. From playground equipment, safety surfacing, water park products, tables, benches, shade, they provide everything you will need to have the best, innovative and safest playground you can purchase. If you are looking to build a playground contact us for a free no obligation quote.