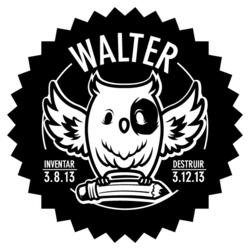 "WALTER is a pop-up agency comprised of global talent from JWT offices collaborating on ideas that will give start-ups a way to go to market that isn't usually available to them," said David Eastman, Chief Executive Officer of WALTER and JWT North America
New York, New York (PRWEB) February 28, 2013
Today, JWT announced the launch of WALTER, a lean and unpredictable advertising agency created to work with start-ups. WALTER will come to life on March 8, 2013 at SXSWi in Austin, TX, and will shut its doors on March 12.
Over the five days of SXSWi, a collective of creative and strategic talent from across the JWT network will team up to develop a customized brand campaign for one or two chosen start-ups.
By registering on CallUsWalter.com, beginning today, companies will have the opportunity to meet with WALTER, pitch their ideas and potentially be selected for a partnership. Twenty-five initial meeting slots are available. From there, WALTER will select the ideas that stand out and create go-to-market strategy packages for one or two companies.
The selected start-ups will leave Austin with strategic plans, media strategies and creative samples, which can then be adapted and executed.
"With the influx of start-ups in the world, we saw an opportunity to help bring new ideas to market by uniting some of the best, brightest and fastest talent across our network and asking them to solve start-up companies' business challenges," said Perry Fair, President of WALTER and Chief Creative Officer of JWT Atlanta. "Our aim is to think big, act small, invent new ideas, destroy expectations and have fun along the way."
JWT is teaming up with TechStars to source some of the start-ups for WALTER. TechStars, the country's No. 1 start-up accelerator, provides seed funding to start-ups, and will be advising throughout the process.
WALTER was conceived in Atlanta, nurtured in New York and will come together in Austin, TX, incorporating worldmade talent from JWT offices in Atlanta, New York, Brazil and London.
"WALTER is a pop-up agency comprised of global talent from JWT offices collaborating on ideas that will give start-ups a way to go to market that isn't usually available to them," said David Eastman, Chief Executive Officer of WALTER and JWT North America. "The ideal WALTER client is any start-up with a great product or service, the courage to do something fun and extraordinary and the foresight to understand how a brand-led creative expression can squeeze the time between launch and critical mass."
The WALTER call for entries (CallUsWalter.com) will open 6 a.m. CST, February 28, 2013. Companies will be asked to give a 140-word elevator pitch as to why WALTER should pick them, as well as provide more details about their company and offering. Entries will close at midnight CST, March 8, 2013. Additionally, the first five tweets on March 8, 2013 between 12 a.m.–10 a.m CST with the hashtag #WALTERSXSW will be automatically given a chance to meet with the WALTER team.
All 25 companies selected for initial meetings will have the chance to meet top marketing talent and get advice from one of the world's leading ad agencies, while the winners will leave with a strategy and customized marketing plan that's ready to activate.
When it's all said and done, the agency will self-destruct.
It was cool while it lasted.
For more information, follow @CallUsWalter on Twitter or visit http://www.CallUsWalter.com/.
Meet WALTER
Five days. That's how long we'll be around – this time. The start-up, start-down ad agency. A collective of industrious outsiders who embrace uncertainty, invent within chaos and make a difference by being different. It's the age of improvisation, so join us and we'll disrupt the flux. The prize: a lean brand plan that commands focused attention from distracted split-screeners. Call us WALTER.
Contacts
Anaka Kobzev
212-210-8691 / 917-362-5845
anaka.kobzev(at)jwt(dot)com
Amy Crouse
404-365-7479
amy.crouse(at)jwt(dot)com
# # #