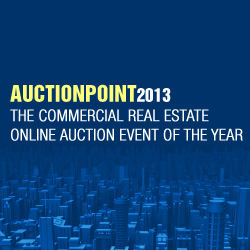 "We've already received interest from buyers in all 50 states and 60+ countries..."
Los Angeles, CA (PRWEB) February 28, 2013
AuctionPoint2013 today announced that in less than three weeks, over $500 million in commercial properties and notes have been submitted to the online auction event being opened to the public in late-March. All asset types have been submitted, including multi-family, retail, industrial and office. In addition, the event will include NNN leased investments and other Class A leased investment opportunities.
"The fact that more than half a billion dollars in assets have been submitted in such a short time frame demonstrates that the market is ready to transact in an environment that provides transparency and accountability," said Jerry Anderson, AuctionPoint2013 Event Committee Chair and past president of Sperry Van Ness International.
For brokers and sellers, AuctionPoint2013 offers a platform with no marketing or placement fees, an extraordinary global-to-local advertising campaign, certainty of sale and accelerated closings. For buyers, AuctionPoint2013 offers the lowest Buyer's Premium in the industry: just 2.5% compared to the typical 5% or more, and every asset is carefully underwritten before being accepted to the event.
Anderson notes, "We've already received interest from buyers in all 50 states and 60+ countries, and advertising to buyers hasn't even started yet. The asset submission deadline is March 15, and we fully expect the asset pool to double by then."
In addition to Anderson, Event Committee members include Joe French, CCIM, Marcus & Millichap, Rosendo Caveiro, Cushman & Wakefield, Gloria Neri, First American Title, Frank Diliberto, Diliberto Real Estate, David Bolt, Lee & Associates, Noah Davey, Grubb & Ellis, and Dr. Sam Chandan, Chandan Economics.
About AuctionPoint2013
AuctionPoint2013 is an annual online auction focused exclusively on commercial real estate properties and notes. The event is advertised to commercial real estate buyers on a national and international scale, with no placement or marketing fees for brokers and sellers. As a LoopNet partner, AuctionPoint2013 combines the deep real estate knowledge of its organizers with world-class online auction technology. For more information, visit auctionpoint.com or call 800-807-1688.