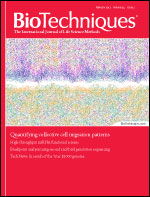 New York, NY (PRWEB) February 28, 2013
In celebration of the 30th anniversary of BioTechniques: The International Journal of Life Science Methods, the journal's publisher is pleased to announce the continued availability of monthly digital editions available for reading online and for downloading to an iPad or iPhone.
This latest issue includes the following articles:
A simple high-throughput technology enables gain-of-function screening of human microRNAs
An algorithm to quantify correlated collective cell migration behavior
Polymerase chain displacement reaction
Precise breakpoint localization of large genomic deletions using PacBio and Illumina next-generation sequencers
Tech News - Finding the true $1000 genome
Troubleshooting Forum - Protein purification: Inclusion bodies
View the BioTechniques Digital Edition Archive: http://www.biotechniques.com/Digital
Download the BioTechniques Mobile App:
https://itunes.apple.com/us/app/biotechniques/id495134628?mt=8
About BioTechniques
BioTechniques, the international journal of life science methods, provides open access to first-quality, peer-reviewed papers on laboratory techniques and protocols. Now in its 53rd volume, BioTechniques has over 80,000 print subscribers worldwide. The journal augments its peer-reviewed content with feature articles and topic-specific supplements. Visit http://www.biotechniques.com for more details or to subscribe.