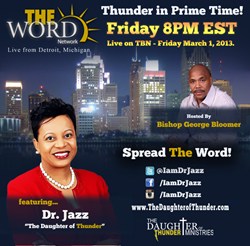 The Word Network reaches nearly 86 million homes in the U.S. alone...
York, PA (PRWEB) February 28, 2013
The Marketing Genie Inc., a multimedia advertising agency based in Baltimore, Maryland, announces that Dr. Jasmin Sculark (Dr. Jazz – The Daughter of Thunder) will be featured on The Word Network on March 1, 2013 at 8:00PM EST. Last year, Dr. Jazz released her top selling book "Dancing with Broken Bones – A Guide to Life's Challenges". Earlier this month, Bishop T.D. Jakes hosted Dr. Jazz at The Potter's House in Dallas, Texas. Now, Dr. Jazz will be Bishop George Bloomer's featured guest on "Rejoice in the Word".
The Word Network (TBN) is the premier network for Christian broadcasting worldwide and is available in over 200 countries. The Word Network reaches nearly 86 million homes in the U.S. alone through DirecTV, Comcast, Time Warner Cable, Bright House Networks, Cox, Cablevision, Charter, and a host of other cable operators and another 9 million homes on Sky TV in the U.K. In addition, The Word Network is also provided to one million men and women serving in the United States Armed Forces in over 65 countries. The Word Network has continued to expand its reach and is now also seen in Latin America which has a population of 582,554,334.
Dr. Jasmin W. Sculark (Dr. Jazz) is the Senior Pastor of the Shiloh Baptist Church in York, Pennsylvania and she is the founder of Daughter of Thunder, ministries. The Marketing Genie is a multimedia advertising agency, based in Baltimore, Maryland, that creates and markets creative content for businesses, authors, entertainment projects and political campaigns. Hard copies and digital versions of "Dancing With Broken Bones" can be purchased online at Amazon.com. To order hard copies of the book by telephone or to schedule preaching/speaking engagements, contact Valerie Wintermeyers at sbcoffice(at)sbcyork(dot)org (717) 854-2547 Ext. 21 or visit the official website at http://www.TheDaughterofThunder.com.