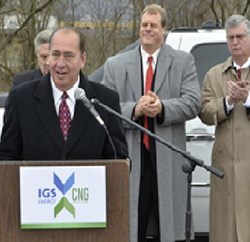 IGS Energy-CNG Services announced plans to build four compressed natural gas filling stations along Interstate 79.
Charleston, W.Va. (PRWEB) February 28, 2013
Gov. Earl Ray Tomblin today released the West Virginia Edge Business Report. The report documents the state's economic progress. The February 2013 report highlights projects and related announcements from businesses both large and small that will assist with the creation of new jobs and the preservation of existing jobs.
FOUR NATURAL GAS STATIONS TO BE BUILT ALONG I-79 CORRIDOR
IGS Energy-CNG Services announced plans to build four compressed natural gas filling stations along Interstate 79. Plans call for stations in Charleston and Bridgeport to be operational by fall 2013. The other station locations are near Jane Lew and across the Pennsylvania state line at Mount Morris. The $10 million project is expected to be complete by 2014. IGS-Energy-CNG Services reports that using compressed natural gas to fuel vehicles produces 30 percent less carbon dioxide than gasoline or diesel fuel, 75 percent less carbon monoxide and 95 percent less particulate matter.
ALTERNATIVE FUEL CONVERSION COMPANY RECEIVES INNOVA LOAN
INNOVA Commercialization Group, (INNOVA®), an initiative of the West Virginia High Technology Consortium (WVHTC) Foundation has provided financing to Alternative Fuel Solutions of West Virginia, LLC (AFSWV). The company is opening a facility that converts aftermarket vehicles to operate on natural gas, propane, or other alternative fuels. The new facility is expected to be completed by March 2013. AFSWV is made up of local entrepreneurs and investors in alliance with Alternative Fuel Solutions of Pennsylvania, an experienced leader in fleet vehicle conversions. The INNOVA Commercialization Group is providing a low-interest loan utilizing funds from the Appalachian Regional Commission and the Claude Worthington Benedum Foundation. These funds are being matched through the West Virginia Capital Access Program.
The Marcellus Gas Manufacturing and Development Act, which was signed into law by Gov. Earl Ray Tomblin on April 4, 2011, provided several incentives to stimulate investment into shale gas utilization. Vehicle operators that convert one or more vehicles to operate on certain alternative fuels at a facility such as the one operated by AFSWV may qualify for state tax credits for 50 percent of the cost of conversion, up to $7,500 for conventional vehicles and up to $25,000 for larger vehicles.
STOCKMEIER URETHANES TO EXPAND OPERATIONS IN HARRISON COUNTY
Stockmeier Urethanes USA Inc. plans a multi-year expansion of its operations in Clarksburg. The German-owned polyurethane company has acquired four acres and an office building adjacent to its plant. The acquisition represents an investment of $1.85 million. Plans call for the office building to be retrofitted and the company's production facility to be enlarged. The expansion is expected to continue into 2015.
MINING REPAIR SPECIALISTS EXPANDS LOGAN COUNTY OPERATION
Mining Repair Specialists LLC is constructing a larger facility and adding advanced equipment to its mining equipment and manufacturing business in Holden. The company demolished a building with 18,000 subdivided feet — one of five buildings on the site — and is constructing a new 20,000-square-foot structure with more open space. The new facility is expected to be operational by April 2013. The company is also transitioning to new advanced equipment, including robotic welders, laser torches, computer numerical control (CNC) boring mill, CNC lathe and CNC machining center. The expansion represents an investment of $2 million. Mining Repair Specialists has served the underground mining industry with mining equipment repairs since 1987. The enhanced facilities will enable the company to extend its services to other industries as well. Mining Repair Specialists employs 33 workers.
WVSU RECEIVES $300,000 DONATION TO START NEW MATH, SCIENCE PROGRAM
West Virginia State University received $300,000 to help start a new program focusing on science, technology, education agriculture and mathematics. American Electric Power Foundation donated the funds to WVSU, based in Institute, Kanawha County. The program will include outreach to children in K-12, create internship opportunities and establish a faculty research position.
STATE LAUNCHES ONLINE CAREER AND EDUCATION EXPLORATION WEBSITE
The West Virginia Department of Education recently launched an online career and education exploration website. West Virginia's Strategic Compass helps the user to explore careers that best fit his or her interests, skills, and work preferences. Each occupation describes the employment outlook, earnings potential, education and skill requirements, and job availability. The site visitor can also get help planning a budget or explore the future of West Virginia energy, all on the same site.
WEST VIRGINIA-MADE SANDALS KICKING UP SALES AROUND THE WORLD
A sandal manufacturing company that moved its manufacturing facility from Mexico to Morgantown in 2010 now exports all over the world, from Africa to the United Kingdom. Recently, RS Marketing LLC shipped its Gurkees rope sandals to a new customer, a resort in the United Republic of Tanzania in Eastern Africa. In addition to its international clientele, RS Marketing supplies Gurkees sandals to wholesalers and retailers in the United States. The company received business coaching and strategic planning from the West Virginia Small Business Development Center (WVSBDC) office in Morgantown.
The WVSBDC is part of the West Virginia Development Office and creates economic impact through offering entrepreneurs and small businesses cost-effective business coaching and technical assistance. The West Virginia SBDC is funded in part through a cooperative agreement with the U.S. Small Business Administration.
WEST VIRGINIA PRODUCTION COMPANY AIRS ORIGINAL FILM SERIES
A film series created by a Berkeley County advertising/production company is being broadcast on the Internet and generating interest at science fiction conventions. Growth Media Services owners Clint and Darla Gaige launched the premiere episodes of the new web series "Shotgun Mythos," a combination sci-fi series and crime noir. Releasing as a series of 39 10-15 minute webisodes, "Shotgun Mythos" reaches the digital audience through the Internet video channel blip.tv, a platform for web shows that offers hosting, distribution and advertising. In addition to developing "Shotgun Mythos," Growth Media Services makes commercials and corporate videos. Growth Media Services is a client of the Eastern Panhandle office of the West Virginia Small Development Center.
WVEDA APPROVES $7 MILLION LOAN TO EXPAND CITYNET FIBER-BASED NETWORK
The West Virginia Economic Development Authority (WVEDA) approved a new loan for a Harrison County company during its January 2013 meeting:
 Citynet LLC, $7,000,000, to finance the company's fiber optic internet service. The company plans to construct a 130-mile route that will interconnect Bridgeport-Clarksburg, Morgantown, Fairmont and Wheeling with Citynet's fiber optic service. The project will be carried out in several phases. This first phase is expected to take two years and cost $12 million to $15 million.
WVDO PROMOTES STATE INDUSTRIES AT TRADE SHOWS
The West Virginia Development Office is exhibiting in several trade shows to promote state industries. The 2013 Winter NAPE takes place Feb. 5-8 in Houston, Texas. Celebrating its 20th year, the NAPE Expo is the world's largest E&P (upstream) expo. Marking its 34th year, the West Virginia Construction and Design Exposition is scheduled for March 20-21 in Charleston, W.Va. The EXPO draws attendees from the construction, engineering, and architectural industries.
WORKFORCE WEST VIRGINIA RECEIVES NATIONAL PERFORMANCE AWARD
WorkForce West Virginia received a national performance award from the U.S. Department of Labor. The state agency received the Fiscal 2012 Performance of Excellence Award in the category of Benefit Payments for a Small State. The award recognizes West Virginia's timely and accurate performance in a key component of the Unemployment Compensation program that ensures the state's workers receive the benefits they need to bridge the gap during periods of unemployment.
In 2008, the state's unemployment compensation program received the Pinnacle Award, the highest achievement in performance nationwide award by the U.S. Department of Labor.
STATE DIVISION OF TOURISM WINS AWARDS FOR AD, MARKETING CAMPAIGNS
The West Virginia Division of Tourism has recently been awarded multiple honors for its marketing campaigns. Tourism received a Platinum Davey Award for its spring/summer television ads. The Davey Awards are judged and overseen by the International Academy of the Visual Arts. More than 4,000 entries were submitted from around the world. Two awards were bestowed on West Virginia Tourism by Travel Weekly Magellan Awards: a Gold Award for its print campaign and Platinum for the spring/summer TV spots. The Magellan Awards honor the best of the best in travel design, marketing and services. MarCom Awards, judged by the Association of Marketing and Communication Professionals, honored West Virginia Tourism with two Gold Awards; one for the spring/summer TV spots and one for the print campaign.
STONEWALL RESORT EARNS AAA FOUR DIAMOND AWARD 10TH YEAR IN A ROW
Stonewall Resort in Lewis County has been named one of AAA's Four Diamond Award recipients for the 10th consecutive year. AAA describes hotels with the Four Diamond designation as refined, stylish, hospitable and with extensive amenities.
AMERICAN PUBLIC UNIVERSITY SYSTEM AMONG TOP ONLINE COLLEGES
The undergraduate programs of American Public Universities (APUS) have been named to U.S. News & World Report's second annual qualitative ranking of top online educational degree programs. APUS ranked #22 out of 237 schools offering online bachelor's degree programs. With administrative offices in Charles Town, W.Va. APUS offers 87 online degree programs to military and civilian students worldwide in online classrooms.
HURRICANE RATES AMONG BEST SMALL TOWNS TO RAISE CHILDREN, MAGAZINE REPORTS
The town of Hurricane counts among the best small towns in America to raise children, according to Bloomberg Businessweek. The magazine and Bloomberg Rankings evaluated more than 3,200 towns nationwide. The list was narrowed to 51, with the town in Putnam County coming in at #49. The evaluation included factors such as public school performance, safety, housing costs, poverty, adult educational levels and diversity.
MORGANTOWN RANKS AMONG "10 BEST COLLEGE TOWNS IN AMERICA"
Morgantown, home of West Virginia University, ranks in ninth place among "the 10 Best College Towns in America," according to the online business site Business Insider. The best towns offer large student populations, modest costs of living and "loads of cultural opportunities," according to Business Insider.