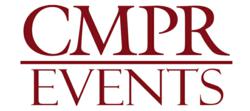 CMPR EVENTS promised a lot and delivered even more
Los Angeles, CA (PRWEB) February 28, 2013
CMPR, a Sports, Entertainment and Corporate Publicity and Marketing Firm, based in El Segundo, CA has announced an official stand-alone events division, CMPR EVENTS. The new event division will continue to produce, publicize and promote major sports, entertainment and corporate events. CMPR EVENTS will have its own separate website and social media pages. The new website also launches today at http://www.cmprevents.com
Over the past seven years CMPR has been involved in various capacities for such major events as: The ESPY Awards for ESPN; Super Bowl Parties for the Black Eyed Peas and Sports Illustrated, P. Diddy, ESPN, Playboy Golf, Moves Magazine, ESPN The Magazine, Athletes First and more; NBA All-Star Parties for ESPN and ESPN The Magazine; Dwight Howard, Carmelo Anthony, Dwyane Wade, Blake Griffin, Kevin Love, My Space and more; Cedar Sinai Sports Spectacular; Harold Pump Cancer Foundation Gala; JDRF Gala; Nautica Malibu Triathlon; Jamie Foxx "3 On 3" Tournament; Black Eyed Peas Peapod Grammy Concert; will.i.am TRANS4M Grammy Benefit Concert; Tony La Russa's "Leaders & Legends; Lakers All-Access event; NFL All-Access event; BCS National Championship Gala; HollyRod DesignCare and My Brother Charlie Festival; Red Carpet Premiere and Finale Parties for "Celebrity Apprentice," "Secret Millionaire," "The Ultimate Merger," "Pirate Master," "The Contender," "Dirty Deeds," and more.
CMPR EVENTS offers the following services: Event Planning & Logistics, Event Management, Red Carpet Logistics & Management; Celebrity and Athlete Booking & Wrangling; Talent Booking, Media Coverage & Publicity. CMPR EVENTS can customize its services for each individual client to fit the needs and goals of the client to make the event a true success.
Tony La Russa, former MLB World Champion Manager (St. Louis Cardinals) said "CMPR EVENTS promised a lot and delivered even more. As we were working together they had great ideas and talked a big game and we were nervous not knowing what to expect but our 'Leaders & Legends' event couldn't have been a bigger success and CMPR EVENTS couldn't have done a better job for us. We look forward to doing the next event with them."
Steve Webster, President & CEO of CMPR said "We started doing so many events over the last few years and we knew we had to form a stand-alone events division. Our VP of Events and Publicity Courtney Merfeld has built a solid reputation in the industry as the consummate professional and the "go-to" person if you want a celebrity and athlete filled, media filled red carpet and successful event. We are excited to have her lead our new division CMPR EVENTS."
About CMPR Events
CMPR EVENTS is a division of CMPR, a sports and entertainment Publicity and Marketing Agency based in Los Angeles. CMPR EVENTS is a full-service events division that creates, produces, manages and executes all event logistics for corporate, entertainment and sports related events. CMPR EVENTS also can work with an existing event producer on providing individual event components such as Red Carpet management; booking celebrities and/or athletes to attend the event; securing media coverage for pre-event, night-of event, and post-event press.
About CMPR
CMPR is a full service sports & entertainment publicity and marketing agency based in Los Angeles with offices in Salt Lake City, New York and Atlanta. The agency manages entertainment publicity for television shows such as "The Apprentice" and "Celebrity Apprentice" on NBC as well as west coast publicity for the ESPN Network and ESPN original programming. CMPR also works with production companies One Three TV (Mark Burnett Productions,) Shine America (formerly Reveille,) and more. In addition, CMPR also is the publicity agency for the second largest NFL player's agency, Athletes First whose roster includes such players as Aaron Rodgers, Mark Sanchez, Clay Matthews, Ray Lewis, Matt Schaub, and Wes Welker. Athletes First also represents NFL head coaches Jim Harbaugh, Jason Garrett and Chip Kelly. CMPR also represents Seattle Seahawks head coach Pete Carroll 's WinForever organization. CMPR is the PR agency for celebrities and athletes such as X Games/Olympic Athlete Louie Vito, Holly Robinson-Peete, former NFL player Rodney Peete, former NBA World Champion Robert Horry and actor Eddie Cibrian. In the corporate world, CMPR handles all PR for business executive Marcus Lemonis and his company Camping World/Good Sam as well as his television show "The Big Fix."
# # # #