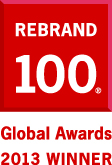 San Francisco, CA (PRWEB) February 28, 2013
The REBRAND 100® award is the highest recognition for excellence in brand repositioning, and is the first, only, and most-respected global program of its kind. A total of ten works by MetaDesign were winners at this year's REBRAND 100® awards. MetaDesign has offices in the USA, Europe and Asia.
The complete list of MetaDesign 2013 REBRAND 100® awards include:
Best of Awards: Organic Farm (MetaDesign Beijing)
Distinction: Ningxia China Real Estate (MetaDesign Beijing)
Merit: Ceph (MetaDesign San Francisco); Barry Callebaut AG (MetaDesign Zürich); SES (MetaDesign Berlin)
Notable: SBB Europaallee (MetaDesign Zürich); Daiichi Sankyo (MetaDesign San Francisco); KfW Bankengruppe (MetaDesign Düsseldorf); Konzerthaus Berlin (MetaDesign Berlin); IAV (MetaDesign Berlin)
All rebrands launched between January 2010 and September 2012, regardless of size and scale from around the world, were eligible to compete. Emphasis was on executed strategy that made an emotional connection and met strategic objectives with relevance to current audiences and prospects. The 2013 winners represented over 33 countries and 35 industries.
About MetaDesign
MetaDesign is a global branding firm with offices in San Francisco, Beijing, Berlin, and Zürich. MetaDesign creates brand strategies, identity systems, and digital interfaces for emerging businesses, cultural institutions, and global enterprises, including the San Francisco Ballet, Sony, Four Seasons, and McAfee. http://www.metadesign.com
About REBRAND™ and the REBRAND 100® Global Awards
REBRAND™ is the world's leading resource for effective brand transformations. The REBRAND 100 Global Awards is the first and most respected recognition for repositioned brands. Featured in such media as The Wall Street Journal, CNN Money, Bloomberg Businessweek, various magazines and books, the annual competition has entry deadlines in late September. The full 2013 winners showcase is at http://www.rebrand.com.