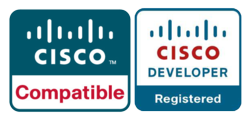 (PRWEB) February 28, 2013
ActionPacked! Networks today announced that its LiveAction network management tool has successfully completed interoperability verification and testing for the Cisco® Media Services Interface (MSI) management Cisco Developer Network (CDN) program. This makes ActionPacked! Networks the first management partner to support MSI's REST-based management interface version 3.1.
LiveAction is also a Medianet Systems Management CDN partner supporting Medianet capabilities on the network elements. With LiveAction's current enhancements to support the MSI management interface, it becomes one of the first products to support Medianet capabilities on endpoints as well as the network. This support gives LiveAction the ability to monitor and troubleshoot issues on any MSI enabled endpoint. It supports both certificate-based and username- and password-based authentication to MSI-enabled endpoints.
Media Services Interface is a software component that is embedded in video endpoints and collaboration applications. MSI ties the network to user devices and applications to enable for a true end-to-end architecture called Cisco Medianet.
The MSI is a critical component of the Cisco Medianet architecture because it enables applications to take advantage of the intelligent Medianet services in the network easily, consistently, and efficiently.
Download a free trial of LiveAction at http://www.actionpacked.com/liveactiondownload. For more information on ActionPacked! Networks, visit http://www.actionpacked.com.
To learn more about Cisco Medianet, visit http://www.cisco.com/go/medianet
About ActionPacked! Networks
ActionPacked! Networks is the leader in quality-of-service software for implementing VoIP, Telepresence, Unified Communications, Medianet and other mission-critical services. The company's LiveAction software increases network service quality and shortens outages by providing true understanding and precise control using rich visualizations and direct device interaction. LiveAction is a sophisticated network management tool that helps simplify the complexity of monitoring, analyzing, and configuring technology areas such as: QoS, LAN, NetFlow, Routing, and IP SLA embedded inside Cisco devices to provide an all-in-one solution that can support both QoS auditing and provisioning.
# # #
ActionPacked! Networks and LiveAction are registered trademarks of ActionPacked! Networks. Cisco, the Cisco logo, and Catalyst are registered trademarks of Cisco Systems, Inc. and/or its affiliates in the United States and certain other countries.