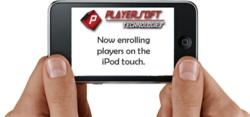 With the swipe or scan of any US state drivers license, Group Tracker gets groups to their favorite games faster than any other system providing better tracking with the highest level of data accuracy. - Tony de Leon, CEO
San Diego, CA (PRWEB) February 28, 2013
Playersoft Technologies announces the newest addition to its suite of casino software applications with Group Tracker. From charter busses to conventions, or any other group, the Group Tracker system allows operators to manage group operations at every level with the ease of scanning or swiping any US state drivers license. Built on the intuitive and award winning Mobile Enrollment technology, using the iPod touch remote scanners, Group Tracker streamlines group management, tracking, check-in and more.
"From creation of groups to check-in and management of commission structures, Group Tracker is an all-encompassing platform allowing casino managers to automate, simplify and adapt to the needs of their group operations," said CEO, Tony de Leon. Group Tracker goes beyond the usual group management system. It is built to allow managers to create, track, and report on groups throughout their stay. With the ability to manage up to eight different offer packages for each group, Group Tracker can also automatically calculate commissions and costs based on passengers, players or play, as well as tracking all associated play with each group. Group Tracker provides a single place to create, manage and see at a glance what groups are profitable, identifying the value of your individual groups and group guests.
"The system also provides a powerful mobile application with a straight forward and easy to use interface," says Vice-President of Technology, Hunter Hunstock. "Group check-in's need to move quickly and we've created our platform for high speed group check-in from anywhere they arrive."
Group Tracker gives operators the ability to create a group on the fly choosing from pre-defined packages for any unplanned arrivals. "The mobility of Group Tracker allows staff to greet groups immediately upon arrival, swipe or scan their drivers license and get them on their way," said Tony de Leon. "It does more than streamline the process by using any state drivers license; it creates a better experience for guests and also interfaces with casino signage to update arrival and departure times." Group Tracker also allows for comprehensive reporting by group, with the ability to create post analysis and profitability reports by group or function.
"Most groups have limited time and Group Tracker allows you to speed the group arrival check in process, eliminating the lines and putting your guests where they want to be - on the casino floor." says Tony de Leon. "Guests get to play their favorite games longer and operators spend less time managing them."
Playersoft Technologies focuses on creating systems to streamline all aspects of the fast moving casino property. "We come from a background of casino operations," said Hunter Hunstock. " We've committed to creating highly integrated, reliable, accurate systems which work to make gaming operations more profitable while providing increased service to guests."
For more information and product demos visit Playersoft Technologies in booth 214 at the upcoming Gaming and Technology Conference in Las Vegas at Green Valley Ranch March 12th and 13th.