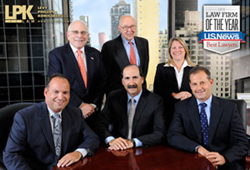 "Over the years our lawyers have represented and fought for hundreds of men and women throughout upstate NY and we are very excited to now have two local offices to better serve our community," Jerome H. Block, Esq.
Albany, New York (PRWEB) February 28, 2013
The New York City products liability and asbestos litigation firm, Levy Phillips & Konigsberg LLP ("LPK"), has opened offices in Saratoga Springs and Albany, New York, to better serve the hard working men and women of the Capital Region who have been injured by asbestos, chemicals or other dangerous and defective products. Saratoga Springs attorney, Chris Humphrey of the veteran-owned law firm Humphrey Law, LLC, has joined forces with LPK as Of Counsel to assist the firm in advocating for the rights of the increasing number of people in the Capital Region who suffer from asbestos-related diseases, such as lung cancer or mesothelioma.
LPK was recently named 2013 Law Firm of the Year in Products Liability, in the U.S. News & World Report's Best Lawyers edition and has been a leader in asbestos and toxic tort litigation for over 25 years. Its asbestos attorneys have won numerous landmark jury verdicts in New York and across the Nation.
LPK has a long track record in upstate NY and has represented men & women in the Capital Region and Central New York for years. In the past 5 years alone, LPK has won some of the largest verdicts in Upstate NY history. In 2008, LPK won the largest verdict ever in Upstate NY for an asbestos mesothelioma victim.
Firm partner Jerry H. Block, who spearheaded the firm's Capital Region expansion, tried the first Onondaga County, NY, mesothelioma lawsuit in 2008, on behalf of a former Navy Boilerman Douglas Pokorney*, which resulted in a $5 million dollar award – the largest mesothelioma compensation verdict in Upstate New York at that time. In the following year, Mr. Block surpassed the record-setting verdict by obtaining an $8 million dollar award in Schenectady County for a former submarine shipyard worker suffering from mesothelioma.
In November 2012, Mr. Block represented Eileen Clinton, of Troy, and won a historic victory in Federal court against RJ Reynolds/American Tobacco**. It is believed to be the first federal jury verdict in favor of a former smoker against Big Tobacco in New York State.
In 2007, LPK attorney Brendan Tully, who practiced in Albany prior to joining LPK, successfully tried and won a trial, which at the time was the longest running in Albany County history, People v. Brenda Houghtaling.
"Over the years our lawyers have represented and fought for hundreds of men and women throughout upstate NY and we are very excited to now have two local offices to better serve our community," said Mr. Block.
Each year, around 3000 Americans are diagnosed with mesothelioma, which is a rare, terminal cancer caused by asbestos exposure. The Capital Region's long industrial history places it in the high risk category for asbestos exposure and asbestos related diseases. In Albany County alone, there are over 100 known job sites where a variety of tradesmen were exposed to asbestos. Those workers also unwittingly exposed their families to asbestos by carrying home the deadly dust on their work clothes and bodies. Commonly known asbestos exposure sites in the region are the General Electric site in Schenectady, the American Locomotive Company, Niagara Mohawk, Knolls Atomic Power Laboratory, Troy Steel & Iron Company, Finch Pruyn Paper Mill in Glens Falls and numerous others.
In addition to industrial workers, there is also a large veteran population in the Capital Region which increases the incidence of mesothelioma and asbestos lung cancer in the area. Sadly, 1/3 of all individuals diagnosed with mesothelioma are veterans that were exposed to the hazards of asbestos while honorably serving our Country. Chris Humphrey, a Submarine Veteran who completed 10 years of service as an engineer in the United States Nuclear Power Program, commented, "I am thrilled to be a part of the LPK team assisting victims of asbestos exposure and their families in the Capital Region, particularly my fellow veterans who have been hit the hardest by asbestos related disease. It's important that victims be able to keep their cases close to home so they can be decided by local judges and jurors. LPK 's new Capital Region offices make that possible and provides area victims of asbestos disease with a choice of legal representation that is second to none."
LPK's Saratoga Springs office is located at 53 Spring Street in Saratoga Springs and the Albany office is located at 90 State Street in downtown Albany.
For more information about Levy Phillips & Konigsberg LLP, please contact the firm at 1-800-988-8005.

Douglas Pokorney v. Foster Wheeler, No. 2006-3087 (N.Y. Sup. Ct., Onondaga County);
** Eileen A. Clinton, on behalf of herself and as administratrix of the estate of William A. Champagne, Jr., vs. Brown & Williamson Holdings, Inc., as successor by merger to American Tobacco Company, and Philip Morris USA Inc., No. 05 Civ. 9907 (CS) (LMS) (S.D.N.Y).