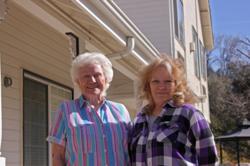 Getting to know them, taking part in the special events of their lives, such as birthdays, anniversaries, it's really special
Oakhurst, CA (PRWEB) February 28, 2013
The mother daughter team of Marilyn Barbian and JoAnna Crawford are looking forward to their first busy summer season as the innkeepers at the Hounds Tooth Inn.
Located at the north end of Oakhurst, about 15 minutes south of Yosemite National Park, the Hounds Tooth Inn is a charming Victorian-style inn with 12 rooms on verdant grounds with views of the Sierra Nevada. The sound of birds and a nearby stream great you on the outside, while the smiling faces of the innkeepers greet you on the inside.
The duo took over at the property in late November and has been eagerly anticipating the summer rush.
"We're excited for the summer season. We have so much fun meeting new people from so many places, we can't wait for this summer," said Barbian.
Barbian handles the guest relations side while her mother, Crawford, takes care of meals. The pair truly enjoys working with their guests, and each other.
"We're like best friends. We do everything together, so it's nice," said Barbian.
Between them, the pair has over 40 years of hospitality experience. However, working at a small inn grants them the opportunity for more one-on-one interaction with their guests, which they enjoy about this latest venture.
"Getting to know people from all walks of life is really a great part of this," said Barbian.
"Getting to know them, taking part in the special events of their lives, such as birthdays, anniversaries, it's really special," added Crawford.
"We become like friends."
The pair are taking reservations for the coming summer season. You can do so online at http://www.houndstoothinn.com or by calling 559-642-6600.