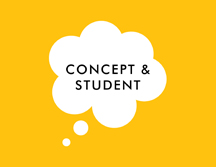 NY, NY USA (PRWEB) February 28, 2013
Talented students and concept designers all over the world are gearing up for the next round of the Spark Awards. Hopes are high for a winning entry in this internationally renowned design competition. Entries will be accepted from March 1, 2013 at Spark.
"Because Spark>Concept is 'America's Award for International Design Excellence,' we have become a truly international competition," said Spark Director Peter Kuchnicki. "Spark receives over 2/3rds of its entries from outside the US.This reflects the high-quality of design thinking that is taking place around the world. This exchange of ideas stimulates creativity and establishes a high bar for excellence for participants and consumers of design alike."
For 2013, Spark has made several small but important changes in the entry system. "For the first time, all student work will be entered into the Spark>Concept & Student event. Within that competition, Jurors will select their favorites in disciplines such as communication design, product design, etc." said Kuchnicki. "This establishes a level playing field, so student work is always judged in context with other students."
Another "tweak" that is being introduced is a request for each entrant to upload a YouTube video for their design. As Spark's Jury Manager, Claire Woolf explains, "Over the last few years we've noticed the influence that a good video has on the jury process. It helps to pull together all the thinking that goes into a design and makes it clear to the judges--even across language barriers." Spark says that videos are not required for each entry, but they are recommended.
In this, the 7th annual Spark Awards, the competitions continue to encourage work that "betters the world." This has particular resonance with young designers, and may be seen in the examples displayed in the Spark Galleries at the Spark website.
"We're honored to have an opportunity to promote this kind of thinking and outlook," said Woolf. "If only a few of our thousands of entrants go on to careers with a positive, caring outlook, knowing that they can make a difference, well, then we'll have done our job."
How to Participate
Interested parties can participate by joining the Spark community, contributing ideas and attending events like the Spark Winners Celebrations and exhibits. Designers can enjoy the further benefits of entering the competitions, gaining recognition and publicity for their skill and creativity. The entry system is simple and straightforward, with registration at the Spark website: http://www.sparkawards.com.
Bonus Info
Spark is proudly sponsored by Autodesk, Core77, ArchNewsNow, Archinect, Bustler, Pluo Consulting and RIOT Creative Imaging.
SPARK 2013 Competition Schedule
Spark>App—Call For Entry is active
Spark>Concept & Student—Call For Entry March 1
Spark>Communication—Call For Entry April 1
Spark>Product—Call For Entry April 1
Spark>Spaces—Call For Entry April 1
Spark>Mobility—Call For Entry April 1
The Spark Design Awards are an international design competition series with many categories. Spark's core mission is to help create a better world though design excellence. Spark entrants are an extraordinarily diverse group of talented people and companies, from university students, to the world's leading electric car companies and forward-thinking Fortune 500 companies.
The Spark competitions are open to all designers, including students (in Spark>Concept). The Spark Community may be joined at no cost. The Spark competitions have a variety of entry fees, depending upon the event. Submissions are made at the Spark website. Juries, composed of design professionals and experts, meet online and in person to choose Finalists and Winners.
Learn more about this organization and all these competitions at the Spark website landing page at http://www.sparkawards.com.