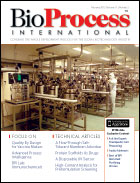 New York, NY (PRWEB) February 28, 2013
BioProcess International (BPI) announces the publication of the February 2013 issue of BioProcess International on the App Store for iPad and iPhone. With this issue, BioProcess International continues to bring exclusive app-only content available only to mobile app readers.
Exclusive content for February includes:
Ask-the-Expert — "Cell Therapy Processing: How Can QBD Help?" A talk with Ivan Wall, a lecturer in cell therapy bioprocessing for the department of biochemical engineering at University College London, about applying the techniques of quality by design (QbD) to cell therapy manufacturing.
Best of BPI Revisted — An interview with the author and a republishing of "Building Process Control into Chromatographic Purification of Viruses" by Pete Gagnon and Denise Gavin
Author Insights — Article introductions and insights recorded by the authors of each article offer additional insights to help readers gain the most from each topic.
This Issue of BioProcess International also features the following articles:
Implementation of Quality By Design in Vaccine Development
Manufacturing Culture: Inspiring Advanced Process Intelligence
Antibodies, Bioassays, and Cells: The ABCs of Immunochemistry
Performance of a Salt-Tolerant Membrane Adsorber in Flow-Through Mode
Protein Scaffolds: The Next Generation of Protein Therapeutics?
Evaluation of a New Single-Use UV Sensor for Protein A Capture
Preformulation Development of a Recombinant Targeted Secretion Inhibitor:
Simultaneous Fluorescence and Light-Scattering Measurement
Vendor Voices: Flexible Manufacturing
Also available: The Flexible Manufacturing Supplement including the following articles:
Multiproduct Facility Design and Control for Biologics
Safety, Flexibility, and Efficiency: Preparing for the Future in Filling
Efficient Flexible Facilities for the 21st Century
Developing an Integrated, Continuous Bioprocessing Platform
Toward Flexible Hybrid Facilities of the Future
Establishing Strategic Supplier Partnerships to Facilitate Manufacturing Flexibility
Lean Six Sigma: A CMO's Most Useful Traveling Companion
Biopharmaceuticals on Demand: Free from Traditional Restraints, China Reinvents Biomanufacturing
Download the BioProcess International mobile app by searching the app store for "BioProcess International" or visiting http://itunes.apple.com/us/app/bioprocess-international/id471903987?mt=8
About BioProcess International
BioProcess International™ (http://www.bioprocessintl.com) is a monthly, controlled-circulation magazine devoted to the development, scale-up, and manufacture of biotherapeutics and biodiagnostics. Each issue provides the global industrial biotherapeutic community with up-to-date, peer-reviewed information detailing the business, politics, ethics, applications, products, and services required to successfully drive biopharmaceuticals, vaccines, and biodiagnostics through the development and manufacturing process.
BioProcess International™ is part of the IBC Life Sciences Division of Informa, plc, a leading international provider of specialist information and services for the academic, professional and business communities. Informa offers a world-class portfolio of publications, events and data services for researchers, students, lecturers and professionals in the academic and scientific communities worldwide.
Subscribe today at http://inf-sub.halldata.com/site/INF000015BCland/init.do