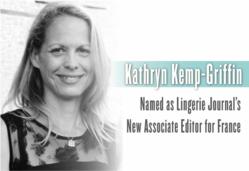 Kathryn is our number one resource for the lingerie industry in France and she is considered by everyone in the intimate apparel industry as an expert in her field
New York, NY (PRWEB) February 28, 2013
The Lingerie Journal has announced Kathryn Kemp-Griffin as the Associate Editor for France. Based in Paris, Kathryn has been working in the lingerie industry since 1990. Her knowledge and understanding of the language and cultural differences provide a unique perspective from which to cover this dynamic and evolving industry.
Kathryn first introduced TLJ readers to a behind-the-scenes look at the French lingerie industry through her popular column "Letter From Paris" and will continue to cover trends, store openings and interview designers.
"Kathryn is our number one resource for the lingerie industry in France and she is considered by everyone in the intimate apparel industry as an expert in her field. We are excited to have her in this new role!" said Luis Paredes, publisher of the Lingerie Journal. "Our readers have enjoyed her series, "Letter from Paris" and gained some important insights into the intimates market in Europe through her editorial contributions."
Kathryn considers the most important aspect of her new role as Associate Editor to be that of a keen observer and engaging lively discussion with readers, saying, "I look forward to shaping the coverage and revealing some of the hidden fascination for everything French."
A full list of her articles can be seen here: http://thelingeriejournal.com/category/features/letter-from-paris-2/
Kathryn is the founder of Paris Lingerie Tours and offers exclusive lingerie tours as an unusual alternative to the regular tourist attractions. She is also the co-founder of Pink Bra Bazaar, a charity initiated by the lingerie industry dedicated to promoting breast health education and supporting women diagnosed with breast cancer.
Kathryn holds a B.A. in English from Princeton University and is enjoying the thrills and frustrations of writing her first novel.
About The Lingerie Journal
The Lingerie Journal is the number one online lingerie trade publication in the United States reaching hundreds of consumers, buyers, lingerie retail store owners, independent lingerie designers, wholesale manufacturers, influential lingerie bloggers, and other intimate apparel professionals (as well as those in related fields) on a daily basis. Follow and interact with the Lingerie Journal on Twitter to learn more @lingeriejournal