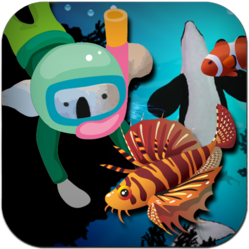 The smartphone and the computer are level platforms that can be applied to numerous positive uses in the educational and corporate field, using games as a springboard for learning information.
San Francisco, CA (PRWEB) February 11, 2013
Brought to you by KJ Gamez, two new mobile games, "Aqua Koalas" and "Koala Maze," made their debut today. Giant jellyfish have made headlines in Japan, causing havoc by sinking fishing boats and choking intake lines for power plants. Join the KJ Hero, a koala avatar, on a mission to fight the offspring of giant jellyfish and keep the oceans from being destroyed by storm drain trash! Discover true dangers—not predators like sharks and mantas, but floating trash and giant jellyfish spawned by global warming and overharvesting.
In "Koala Maze," help a hungry koala navigate across labyrinths to fetch eucalyptus leaves and nuts while avoiding crocodiles. Play to the end to get several free gifts and a book excerpt! This game features illustrations from the book Klassic Koalas: Ancient Aboriginal Tales in New Retellings, which contributes to the Australian Wildlife Hospital, a major project of Australia Zoo Wildlife Warriors Worldwide, founded by Steve and Terri Irwin.
Education beyond the classroom has expanded to global consciousness and education. The smartphone and the computer are level platforms that can be applied to numerous positive uses in the educational and corporate field, using games as a springboard for learning information.
Benefits:
• Reward ingenuity with 101+ free gifts when a game is played to the end!
• Let a small koala teach by example that fears are only real if we allow them to be.
• Learn about global and environmental relationships while following your passions.
• Value delayed gratification and perseverance in bringing projects to completion.
• Improve brainpower skills such as problem solving and increased attention.
• Play with ease! This game was designed for any age (6 and up).
Features:
• Created for smartphones, KJ Gamez also work well on iPads and other tablets.
• Different levels of entertainment include stunning visuals, music, and sounds.
• Multiple stages were designed for any age group and skill set in mind.
• High-endurance gameplay leads to epic wins with multiple prizes in wait.
• Clean user interface with consistent menu structure throughout each game.

Easy access to pause button, instructions, sound settings, and scores.
About:
KJ Gamez™ features entertaining, socially conscious Apple and Android smartphone games centered around a koala rag doll avatar, simply known as "KJ Hero." Inspired by shamanic powers attributed to the koala by ancient Aboriginals, KJ helps conquer fears, encourages the player to achieve the impossible, explores character reinvention, transcends universes and known realities. Each game comes with free gifts when played to completion. The prizes consist of a combination of tangible goods and visual assets.
The educational system of America is realizing that immediate interactive positive feedback from a computer game can be a tremendous motivational circuit for students. With incentive for motivation, the game creates a sense of urgency. Obstacles are challenges to be met. Achieving a grand win that takes perseverance to achieve creates an extraordinary positive motivational system. Players receive immediate feedback, complete with animation and sounds. The educational score results, whether high or low, are nonthreatening. The inanimate bond is a built-in version of trust with the results a computer can provide. The wins or defeats and high or low scores the game provides are given without negative feedback. The user realizes that the computer is not threatening and is a reliable tool for feedback toward obtaining a goal.
Games:
Koala Jungle, Koala Heroes; Aqua Koalas; Koala Maze; Koala Museum; Koala Heist; Dream Koalas; Pop Art Koalas; Happy Koalas; Space Koalas; Magic Koalas; Smart Koalas; Snow Koalas.
Apps: Koala Coloring Book; Klassic Koalas Master Collection (thirteen books in one app).
Availability:
• iTunes.com, Amazon, Google Play and Barnes & Noble Nook.
• Games-specific page: http://www.koalajo.com/games.html
• Web: koalajo.com, m.koalajo.com (mobile)
• Twitter: @KJ_Gamez
• Facebook: http://www.facebook.com/kjgamez.koalajo
• Contact: kj_gamez@yahoo.com