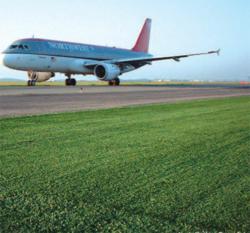 "Air FieldTurf's groundbreaking artificial grass improves both and is a smart investment for any airport."
Vista, Calif (PRWEB) February 17, 2013
The Federal Aviation Administration (FAA) recently reported their intention to reduce the accident rate for private and corporate aircraft by ten percent over the next eight years.
Airports worldwide are incorporating Air FieldTurf,a specialized artificial turf that stand up to the demanding requirements of airfield activitie, into a plan to help increase safety and efficiency. FieldTurf, the worldwide leader in synthetic grass surfacing solutions, developed this product specifically for the unique needs of airport operations.
Air FieldTurf's innovative aviation turf is one of only two systems approved by the FAA for use on airfield surfaces, according to FAA Advisory Circular No: 150/5370-15A, Airside Applications for Artificial Turf.
"Safety and efficiency are vital to the effectiveness of any airfield," said Air FieldTurf spokesperson David Hartman. "Air FieldTurf's groundbreaking artificial grass improves both and is a smart investment for any airport."
Aviation grade artificial turf contributes to improved visualization for pilots in all weather conditions by creating a clear contrast around the edges of runways and taxiways. Air FieldTurf reduces the amount of FOD on airport surfaces lessening the possibility of damage to expensive aircraft engines. The need for airfield maintenance is greatly reduced as is the risk from migratory waterfowl.
Air FieldTurf significantly improves access for rescue and firefighting crews with a stable and safe surface for ambulances, fire trucks and other emergency response vehicles. Surface drainage is greatly improved and the need for mowing is eliminated entirely.
Boston Logan, San Francisco, John F. Kennedy, Charles de Gaulle and Hong Kong International Airports have all installed this technologically advanced turf to improve runway and taxiway shoulders. Marine Corps Air Station Miramar chose Air FieldTurf to provide greater pilot safety and to protect their multi-million dollar aircraft.
Air FieldTurf incorporates more than forty patents for products, installation methods, infill systems and adhesives. FieldTurf's constant efforts in product research and development continue to fuel the engineering of revolutionary products that dominate the synthetic grass industry.
For more information, visit http://www.airfieldturf.com or call 866-271-5413.
###
About EasyTurf
In May 2010 EasyTurf, a long-time distributor of FieldTurf's line of landscaping products and a recognized leader in the artificial grass industry, became the national brand of FieldTurf's landscape, pets, playground, and golf artificial grass products. The partnership allowed FieldTurf to rapidly expand its existing dealer network and accelerate sales and distribution of FieldTurf's landscape products on a national level to homeowners, municipalities, schools, businesses and the military. For three consecutive years, Inc. Magazine recognized EasyTurf on its list of fastest growing private companies.
About FieldTurf:
Throughout the last decade our engineered, infilled artificial turf systems became the first to host two Super Bowls, the World Series, the World Baseball Classic, a Major League Soccer Cup final and College Bowl games from coast to coast. Today, FieldTurf continues to thrive as the global market leader in synthetic sports fields with more than 7,000 fields installed. Cities and schools have been benefitting from our ability to provide the very best value for the short and long term, allowing organizations at all levels to be able to forecast the amount of money they will save by installing FieldTurf, the safest, longest lasting and highest performing artificial turf system.
A Tarkett Company
FieldTurf has offices around the world, including our head office in Montreal (Canada) and Manufacturing in Calhoun, Georgia (USA). FieldTurf is a part of Tarkett Sports, a division of the Tarkett Group. The $2B Tarkett Group is a worldwide flooring leader with over 130 years of experience in creating safe, sustainable, and inspiring flooring and surface solutions.