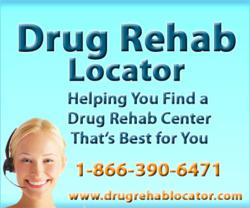 We needed to find a teen drug rehab quickly and we found several good options here. We are immensely grateful.
United States (PRWEB) February 05, 2013
Restructuring a website for ease of use is the goal of Drug Rehab Locator. For anyone seeking help for addiction or dual diagnosis, this website is helping families every day. Drug Rehab Locator simplified the process of finding a treatment provider today. Searching for the right treatment center might feel overwhelming, but this website makes it easy for anyone to search for providers of treatment services in several ways. A search can be made not only by state or city, but they can search by type of treatment facility as well. They can also find out information about the different types of treatment facilities to help know what type of addiction treatment they may need to choose. If someone has unanswered questions, an operator is available 24 hours a day to discuss their situation and help to pick out a treatment facility that is specific to their needs.
At http://www.drugrehablocator.com, it is quick and easy to search this website. The design of the site is to search first by state, and then anyone can also choose to refine their search by city. There is also an option to search by type of treatment needed such as drug rehab or drug detox. The search returns listings that contain the contact information for each provider, as well as a short synopsis of the types of treatments available at that specific provider. This online directory has been used by many types of people searching for help with addiction, including members of the judicial system, hospitals, medical personnel, schools, employers as well as by addicts and their family and friends. In addition to providing an online directory of treatment providers, this website also provides information about types of treatment options for addiction in its database of articles. For anyone that needs to find help to learn how to obtain freedom from addiction and live substance free, they just need to turn to visit this online directory or call to obtain fast and confidential help.
About Drug Rehab Locator
Located in Seal Beach, CA - the Drugrehablocator.com team designed this site to assist those in need. Operators are also available to answer calls and provide assistance at any time during the day or night.