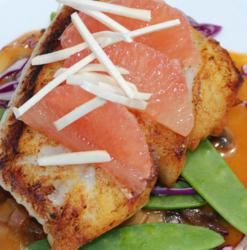 Chef Gorji says he's thrilled that healthy New Mediterranean dishes that incorporate fresh fruit, vegetables and fish has been so well received.
(PRWEB) February 27, 2013
Dallas' Chef Gorji, chef-owner of Canary By Gorji, announced today that he will include his February special of "Seared Alaskan Cod and Texas Rio Grande Grapefruit" on his rotating entrees in March as part of his 10th anniversary celebration because of how well it has been received by diners at his intimate 10-table restaurant. Gorji says "he's thrilled that his passion for cooking "exciting, healthy New Mediterranean dishes that incorporate fresh fruit, vegetables and fish" has been accepted with such enthusiasm."
In addition to this month's cod and grapefruit entree, Gorji's New Mediterranean fine dining menu regularly features many national culinary trends that focus on local sourcing and unexpected pairings. The chef, who makes daily shopping trips to farmer's markets, local specialty shops and Artisan vendors to inspire his daily specials, also insists on incorporating sustainable fish such as Arctic Char and Branzini in his monthly rotation.
And during his 10-year anniversary month in March, Gorji is featuring one of his all-time favorite signature dishes: a pomegranate-inspired dessert that features Kefir Cheese Butterfly with Jordan Valley Medjool Date with a pomegranate reduction. Yogurt purists will be especially pleased to see Kefir on the menu. During March, diners who let Chef Gorji know that they are helping to celebrate this anniversary will receive this complimentary dessert sent to their table.
Seared Alaskan Cod and Texas Rio Grande Grapefruit
With snow peas, red cabbage, mushrooms, shallots, parsley, white wine and fresh squeezed grapefruit juice topped with fresh grapefruit wedge and horseradish root.
2 pounds Alaskan Cod fillets
4 tablespoons olive oil
1 teaspoon butter
¼ pound snow peas
6 ounces by volume red cabbage julienned
3 ounces by volume sliced mushrooms
2 tablespoons shallots diced
½ cup dry white wine
½ cup fresh squeezed grapefruit juice
¼ teaspoon rice flour
8-12 wedges fresh grapefruit
sprigs of flat parsley chopped
slivered horseradish root
Brush fillets with 2 tablespoons of the olive oil, salt and pepper to taste. In a large sauté pan add 1½ tablespoons olive oil and butter and cook over medium high to high heat 2-3 minutes depending upon the thickness of the fillets. In another sauté pan, place ½ tablespoon of oil, dab of the butter and saute the mushrooms, over high heat until the they become soft and translucent, then add the shallots and parsley being careful not to burn the shallots. Add the white wine, grapefruit juice, rice flour and reduce to semi thick sauce. Add the vegetables to sauce mixture during the last two minutes of the final turn of the fillets. Plate the vegetables and sauce, placing the fillets on top and garnish each with two-three wedges of grapefruit and slivers of horseradish root.
Serves 4
Canary By Gorji is located at 5100 Belt Line Road Road, Suite 402, Dallas, Texas 75254. Canary By Gorji offers a boutique wine selection and is open for dinner Tuesday–Thursday, 5-9:30 p.m. and Friday – Saturday, 5-10:30 p.m. For more information about the restaurant call 972-503-7080 or visit http://www.canarybygorji.com 
Chef Gorji's own product line Gorji Gourmet Foods®, which includes Pomodoro and Puttanesca Sauce, Dipping Oil & Marinade Primer, Pomegranate Vinaigrette and Spicy Remoulade are available for purchase at Canary by Gorji Mediterranean Steak & Seafood restaurant, DFW Whole Food Markets®, and the following gourmet stores in the Dallas area: Jimmy's Food Store, Bolsa Mercado, Celebration, and Sara's Market & Bakery. The products are also available online at Artizone.com and http://www.gorjigourmetfoods.com