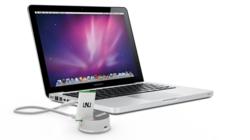 With these five new battery options for the Duo Charging Dock, owners of the Samsung Galaxy SIII and Note I and II will have a viable power option which is easy to use and provides them with an unlimited power source,"
San Jose, California (PRWEB) February 20, 2013
uNu Electronics Inc., a trailblazer in the portable power category, today announced the expansion of its popular Duo Charging Dock into the Samsung platform. Offering five separate battery capacities for specific Samsung products, the Duo Charging Dock is the first step for uNu in making products specifically for Samsung.
"In today's world there are a growing number of Samsung users who have limited choices in the power-accessory industry, that's why we are focused on making it easier for this large demographic to find quality power alternatives for their products. With these five new battery options for the Duo Charging Dock, owners of the Samsung Galaxy SIII and Note I and Note II will have a viable power option which is easy to use and provides them with an unlimited power source," said Brian Westphal, Director of Marketing.
This portable hub features multiple ports to charge two Samsung batteries (included) and the Samsung Galaxy phone or Samsung Note at the same time. Simply swap a charged Samsung battery off the hub and place it in your phone or Note to continue to enjoy a constant supply of power. The Duo Charging Dock for Samsung is perfect for every Samsung owner, bring it on a trip, throw it in a backpack, or carry it in a purse. The power to charge your phone will always be with you. As an added bonus the Duo Charging Dock works with other phones including the iPhone 4/4S. (iPhone 4 batteries sold separately).
The Duo Charging Dock is universal with any of the uNu brand batteries and can charge different capacities simultaneously. Individual batteries are available at myunu.com so users can purchase different capacities for different products without having to re-purchase the hub itself.
uNu Battery Capacity are as follows:
Samsung Galaxy S3 = 2100mAh
Samsung Note = 2500mAh
Samsung Note 2 = 3100mAh
Real Cordless Charging
By using the two integrated battery ports users can connect and charge depleted batteries directly to the hub, eliminating the need for a phone-charging cable. Plus, swapping depleted batteries with fully-charged batteries from the hub allows for a constantly replenished source of battery power.
Dock, Charge, and Go!
Made to be completely portable, this hub can easily fit inside a briefcase, purse, backpack, or even a pocket, making it a perfect travel companion. Simply dock any included Samsung battery and/or small USB device, let it charge, and hit the road!
An All-In-One Hub
This comprehensive hub is equipped with two battery ports and an additional USB outlet allowing for up to three batteries to simultaneously connect. By charging multiple batteries at once, uNu has eliminated constantly having to swap charged and un-charged batteries.
300% Power Efficiency
Charge up to 3 batteries at once! Via the USB port and two Samsung battery ports users can charge the Samsung Galaxy or Note and two of the included Samsung batteries simultaneously. In a single charging session users have access to a possible 3 charged batteries (integrated iPhone battery, and two external batteries)
Multiple Platforms, Multiple Devices…No Problem!
The Duo Charger Dock facilitates batteries used by Samsung Galaxy SIII, Galaxy Note I and II and Exera batteries for iPhone 4/4S allowing several different users with multiple devices to be able to sync and charge from a single USB powered device.
About uNu
uNu Electronics Inc. is a global manufacturer and distributor of award-winning mobile-electronic accessories. uNu's unwavering belief in creating innovative designs, delivering reliable products, and providing exceptional customer service have made us one of the biggest leaders in mobile accessories. Based in Union City, CA with international production facilities, uNu caters to clients on a global scale.
At uNu we are passionate about Samsung products and believe in providing only the finest in quality power accessories. Our focus on eloquent design and optimal functionality makes charging fun and easy. Winners of the 2013 CES Design and Engineering Showcase Award, uNu is a proven source for reliable and innovative products. We rigorously test every product to ensure that uNu is your most reliable power source. For any additional information regarding uNu or any of its products please visit our webpage at myunu.com, Facebook at facebook.com/unucases or on Twitter at twitter.com/unucase.
Media Contact:
Jason Guo
Director of Public Relations
Jason(at)myunu(dot)com