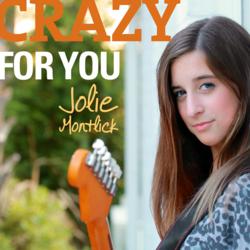 Jolie is an amazing singer and songwriter- and she is only 11-years-old!
Atlanta, GA (PRWEB) March 13, 2013
11-year-old singer, songwriter and national anti-bullying spokesperson Jolie Montlick announces the official release of her newest single "Crazy For You." This follows close on the heels of her anti-bullying music video "My Song For Taylor Swift" going viral with viewers in 130 countries.
Jolie's song "Crazy For You" is peppy, upbeat, energetic and fun. In just a few days after its release, many people have called the lighthearted, country pop song a "great tune" and an "absolute hit."
Jolie's message in "Crazy for You" is one that deals with the "coming of age" emergence of the child becoming a teen. Her lyrics inspire an imaginary drama of how encompassing the first crush manifests itself in its innocence and longing. Her take on tween love is most precise in the combination of the writer as an independent young woman and the dependency that arises from that first love which remains in our consciousness forever.
Jolie is best known for her anti-bullying song and music video "My Song for Taylor Swift" which was released just a few months ago, and has already been seen around the world. The song not only honors Jolie's favorite artist, but it also tells the story about how even Taylor Swift was the victim of bullying. The first song Jolie wrote and recorded, Jolie was inspired by how Taylor did not let what other people thought stop her from pursing her dreams. The video premiered in Atlanta to a crowd of 10,000 people at the Gwinnett Gladiators professional hockey team season opening weekend, and it has also been utilized for community anti-bullying rallies to show positive examples of kids doing the right thing when faced with bullying. "My Song for Taylor Swift" has been inspiring kids who are bystanders to speak up when they see others being bullied, and to be a friend to a bullying victim. Jolie is donating 100% of the proceeds from the sale of this song to the Ambassador for Kids Club anti-bullying program (a4kclub.org).
About Jolie:
When Jolie is not studying or playing her guitar, she donates time to giving back to the community and helping others. Her motto is "If you want to be happy, help someone else." As National Spokesperson for the Ambassador for Kids Club (a4kclub.org), a non-profit organization that gives kids and parents the information they need to help prevent, stop and report bullying and child abuse, Jolie regularly appears in public service announcements and television interviews to encourage kids to fight back against bullying. Jolie is also a second-degree black belt and two-time State Tae Kwon Do champion who has helped teach self-defense to thousands of kids. In addition to "Crazy For You," and "My Song for Taylor Swift," Jolie recently released two other new singles, "Just One Day" and "Need You," that are now available for purchase on iTunes and Amazon.com.
For more information about Jolie Montlick, her music and her campaign against bullying, please visit http://www.JolieMontlick.com.
Please contact us for access to broadcast quality video files, high-resolution photos and mp3 files.