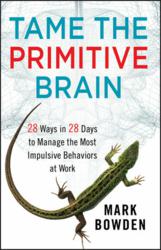 Hoboken, NJ (PRWEB) March 20, 2013
The number one anxiety in business is dealing with problem people. This unwanted stress can unleash some impulsive behaviors that may not be appropriate for a work environment. Reflexes and instincts originating from the most primitive part of our brains influence many of our actions and responses, and managing these natural impulsive reactions, as well as those of others, is essential for effectively navigating difficult relationships, handling everyday challenges and ultimately achieving success in the workplace.
In this noted body language, behavior and communication expert's new book, Tame the Primitive Brain: 28 Ways in 28 Days to Manage the Most Impulsive Behaviors at Work (Wiley; 978-1-118-43698-1; March 2013; $24.00), Mark Bowden offers a simple model of human interaction that increases understanding of the instincts guiding one's responses to challenging situations and provides practical techniques to better manage oneself and others to achieve their goals. Incorporating the latest evolutionary and neuroscience research, as well as real life examples and effective techniques, this practical book:

Brings new and fresh perspectives to business readers for dealing with tricky behaviors and personalities
Explains how to effectively manage those around you at any level in an organization
Shares the latest evolutionary behavioral theory, neuroscientific evidence, and the tried and tested tools based on these premises
With 28 action items one can implement daily, Tame the Primitive Brain equips the reader to take control of their impulsive, instinctive behaviors and avoid mistakes detrimental to their success and reputation. This simple model of how people can relate to each other brings increased understanding and expands one's toolset to better manage their self and others to achieve anything. Bowden's insightful advice on topics including: snap judgments, natural pessimism, relationships and emotions, gives readers confidence to approach any challenging situation.
Mark Bowden (http://www.truthplane.com) is a noted body language expert and the creator of TRUTHPLANE™, a communication training company and unique methodology for anyone who has to communicate with impact. His communication techniques, in which he trains individuals and groups worldwide, have garnered him a reputation as one of the world's foremost authorities on nonverbal communication.
His client list of leading businesspeople, teams, and politicians currently includes presidents and CEOs of Fortune 500 companies and current Prime Ministers of G8 powers. Bowden gives seminars and keynote speeches worldwide on persuasive and influential verbal and nonverbal communication to stand out, win trust, and profit. He is also a best-selling author of two books on Body Language.