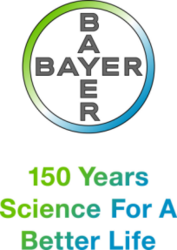 "This new trait and herbicide system will enable growers to build highly effective weed management programs in soybeans while utilizing rotation of multiple and highly effective herbicide modes of action - critical in the fight against weed resistance."
Monheim, Germany (PRWEB) March 01, 2013
Bayer CropScience and Syngenta have submitted applications for the approval of a new herbicide-tolerance soybean trait in various countries. It is now under review by regulatory authorities in the United States and Canada as well as key soybean-importing countries, including the European Union. The launch is expected between 2015 and 2020. The new trait confers tolerance to three herbicide active ingredients: Mesotrione, Glufosinate-ammonium and Isoxaflutole (MGI). This MGI herbicide tolerance trait offers an important new tool for soybean growers faced with challenging weeds such as waterhemp, Palmer pigweed and lambsquarters.
The new trait will broaden the herbicide options available to soybean growers by offering tolerance to Callisto® and Balance® herbicides, the leading HPPD inhibitor products. Further assisting growers in weed resistance management, the new soybean product will also be tolerant to Liberty® herbicide, while maintaining soybean yield and agronomic performance.
MGI herbicide tolerance will finally open the doors for consistent, market-leading residual weed control combined with a powerful post-emergence control option to soybean growers. This technology will substantially improve soybean productivity and sustainability of weed control practices by enabling growers to use more effective, residual herbicides that offer maximum flexibility.
"Bayer CropScience is excited to work with Syngenta to provide growers a powerful new weed management tool in soybeans," said Tim Zurliene, Global Trait Marketing and Licensing Manager, Bayer CropScience. "This new trait and herbicide system will enable growers to build highly effective weed management programs in soybeans while utilizing rotation of multiple and highly effective herbicide modes of action - critical in the ongoing fight against weed resistance."
"MGI herbicide tolerance will play an important role in promoting sustainable soybean weed management and provide growers another tool to maximize soybean yield," said Brett Miller, Technical Product Lead, Syngenta. "We expect MGI herbicide tolerance to become the foundation for soybean products containing stacked herbicide tolerance traits offering multiple modes of action to control the broadest spectrum of weeds."
The MGI herbicide tolerance trait will be available in NK® brand soybean varieties offered by Syngenta and also in Bayer branded varieties as well as out-licensed to other seed brands once all the necessary regulatory approvals have been obtained. Additionally, each company is developing its own soybean herbicide products and programs that will be utilized with the new soybean varieties.
About Bayer CropScience
Bayer is a global enterprise with core competencies in the fields of health care, agriculture and high-tech materials. Bayer CropScience, the subgroup of Bayer AG responsible for the agricultural business, has annual sales of EUR 8.383 billion (2012) and is one of the world's leading innovative crop science companies in the areas of seeds, crop protection and non-agricultural pest control. The company offers an outstanding range of products including high value seeds, innovative crop protection solutions based on chemical and biological modes of action as well as an extensive service backup for modern, sustainable agriculture. In the area of non-agricultural applications, Bayer CropScience has a broad portfolio of products and services to control pests from home and garden to forestry applications. The company has a global workforce of about 21,000 and is represented in more than 120 countries. This and further news is available at: http://www.press.bayercropscience.com.
About Syngenta
Syngenta is one of the world's leading companies with more than 26,000 employees in over 90 countries dedicated to our purpose: Bringing plant potential to life. Through world-class science, global reach and commitment to our customers we help to increase crop productivity, protect the environment and improve health and quality of life. For more information about us please go to http://www.syngenta.com.
Find more information at http://www.bayercropscience.com.
rib (2012-0503E)
Forward-Looking Statements
This release may contain forward-looking statements based on current assumptions and forecasts made by Bayer Group or subgroup management. Various known and unknown risks, uncertainties and other factors could lead to material differences between the actual future results, financial situation, development or performance of the company and the estimates given here. These factors include those discussed in Bayer's public reports which are available on the Bayer website at http://www.bayer.com. The company assumes no liability whatsoever to update these forward-looking statements or to conform them to future events or developments.