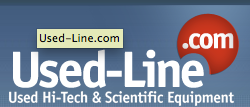 Whether researching pricing and availability or model information or looking for manufacturers' data sheets, you can access what you need on Used-Line.com
Southfield, MI (PRWEB) March 06, 2013
Some people need lab or test equipment and want to find a supplier as painlessly as possible.
Others are more interested in getting information.
Now, Used-Line.com accommodates both.
Users falling into the first category, who know exactly they need and want to find it quickly have always been able to search or browse the over 700 categories of equipment on Used-Line for new and used test, lab and semiconductor equipment accessing the inventory of over 250 dealers world-wide. Powerful filters allow visitors to narrow down the results by brand, location, and even technical specs enabling them to quickly find what they need, where they need.
And now, visitors who want to see all the available equipment based on brand-name and model can use the newly introduced "Browse by Manufacturer" as a virtual catalog of test, lab and semiconductor equipment. With models from over 1000 manufacturer the "Browse by Manufacturer" page can be used to access information consolidated from hundreds of dealer websites into one easy to use equipment database.
This new feature complements the "Test Equipment Specifications" tool (formerly called "the Test & Measurement Buying Guide") that enables visitors to find the test equipment that meets their specifications in 23 popular categories. The new Manufacturer page includes all the 200,000+ equipment listings in the Used-Line.com database including hundreds of equipment categories not covered in "Test Equipment Specifications" tool.
As the web's most comprehensive website for buying, selling and researching new and used test, lab and semiconductor equipment, Used-Line can effectively be used as a search engine for these products. The new Manufacturer page opens up a new path to access the huge amount of information in our database and in the dealers' equipment listings.
Nathaniel Sperka, customer support specialist at Used-Line points out that the site is a one-stop marketplace and saves time and effort over searching for equipment via traditional search engines by consolidating the information from hundreds of websites into one search engine.
"Whether researching pricing and availability or model information or looking for manufacturers' data sheets, you can access what you need on Used-Line.com quickly with information sourced from hundreds of vendors. Plus, we have over 10,000 datasheets in our database which we include automatically when showing listings from the dealers on the site."
"We want it to be as easy as possible for our visitors to contact dealers, so make it easy to call, click or email dealers. Our 'Quote Cart' can be used to quickly contact multiple dealers at once and our 'Wanted Ads' give visitors the option of having the dealers contact them."
To see the new and improved site, go to http://www.Used-Line.com. To stay up-to-date with the latest auctions and new high-demand listings by joining us on Twitter @UsedLine. For tips on Used-Line.com and all sorts of topics visit our blog at http://blog.used-line.com.
About Used-Line.com:
Since 1999 Used-Line has been the most trusted one-stop site for buyers Test & Measurement, Lab and Semiconductor equipment of on the web. With over 200,000 listings from hundreds of professional Test & Measurement, Lab and Semiconductor equipment dealers Used-Line connects thousands of equipment buyers and sellers every month. Used-Line's specialized tools and resources help buyers easily research and select the right used equipment and help sellers accurately value and effectively advertise their equipment — all quickly and efficiently.