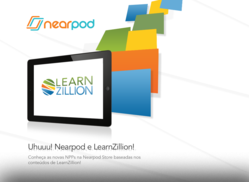 While LearnZillion provides teacher friendly high-quality video lessons, Nearpod improves classroom engagement.
Miami and Washington, DC (PRWEB) March 27, 2013
Nearpod and LearnZillion, two popular ed-tech startups backed by the New Schools Venture Fund, announced a partnership today offering interactive lesson plans aimed at teachers and students in "1to1 classrooms".
An initial set of 50 LearnZillion presentations covering a diverse range of topics in Math and ELA are already available for free to registered Nearpod iPad app users. LearnZillion created these interactive lesson plans, aligned to the Common Core State Standards, and then Nearpod converted them for their mobile platform.
Jennifer Carolan, the NewSchools Venture Fund Partner Seed Fund director, says, "We are very excited to see two great companies from our portfolio joining forces to solve some of the major pain points that teachers face daily. While LearnZillion provides teacher friendly high-quality video lessons, Nearpod improves classroom engagement and facilitates assessment. We look forward to seeing the results of this collaboration and the impact it will have on both student engagement and achievement."
Eric Westendorf, LearnZillion's CEO, also expressed his enthusiasm for this shared effort: "Nearpod is doing a great job driving tablet adoption in class. Engagement is the key in every well-driven lesson and that's Nearpod's strongest point. This collaboration will allow us to better serve the growing number of teachers and students involved in 1:1 and BYOD implementations."
Guido Kovalskys, Nearpod's co-CEO says: "I was impressed by the quality and quantity of LearnZillion's classroom content the first time I saw it, and I am convinced that it is a great fit for Nearpod. Thanks to their great video lessons and assessment activities, LearnZillion represents the future of educational publishing."
Teachers can download Nearpod by visiting the App Store at https://itunes.apple.com/us/app/nearpod-teacher/id523540409?mt=8. Once in the app, teachers need to tap on the Nearpod Store icon and get the free LearnZillion presentations.
About Nearpod - http://www.nearpod.com.
Nearpod is a mobile learning platform that allows teachers to create and share interactive presentations with their students' devices in real time. During class and guided by their teachers, students can navigate selected web pages, see videos, collaborate by sharing their drawings or short essays, and participate in interactive assessment features, like Q&As, Polls or Free Text activities. Nearpod supports iOS, Android and almost any web-enable device. Launched officially in the summer of 2012, Nearpod has attracted more than 90,000 teachers and has been downloaded by 500,000 students worldwide.
About Learn Zillion - http://www.learnzillion.com
LearnZillion Inc. is a social mission company committed to supporting the work of teachers and improving educational outcomes for all students. The web-based learning platform combines video lessons, assessments, and progress reporting. Each lesson highlights a Common Core standard, starting with math and ELA in grades 3-9. LearnZillion is a web-based platform that delivers high quality video lessons – produced by teachers around the country – to students and teachers.
About New Schools Venture Fund – http://www.newschools.org
NewSchools Venture Fund is a not-for-profit organization working to close the achievement gap by funding and supporting entrepreneurs who are creating innovative solutions to the problems in public education so that all children have the opportunity to succeed in college and beyond. Since its founding in 1998, NewSchools has invested $180 million in more than 70 nonprofit and for-profit educational organizations working to promote student achievement.