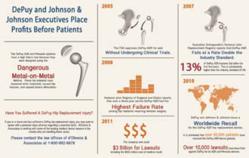 (PRWEB) March 04, 2013
d'Oliveira & Associates released an infographic detailing the high failure rate of the manufacturer's ASR and Pinnacle hip replacement systems. These devices were designed and manufactured using the metal-on-metal method, which has been linked to side effects, as informed by the FDA, like device loosening, hip fracture, and device dislocation. This information is important for the 93,000 patients who were implanted with the ASR device and the thousands that were implanted with the Pinnacle device**.
DePuy Orthopaedics and Johnson & Johnson manufacture these defective hip replacement systems, and at a recent trial a number of damaging internal documents were presented [Kransky v. DePuy, BC456086, California Superior Court, Los Angeles County (Los Angeles)]. One internal document presented during the court case, as reported by the New York Times, revealed that the ASR device failed an internal test in 2007 but the company continued to market the product. The internal documents go on to state that executives at DePuy and Johnson & Johnson rejected a plan to redesign the ASR hip device. The New York Times reported another document that exposed the fact that the company estimated when the ASR device should stop being marketed based on the amount of time it would take to convert surgeons to another DePuy product.
The DePuy infographic shows that as early as 2007 the Australian Orthopaedic's National Joint Replacement Registry found that DePuy ASR failed at a rate double the industry standard. As reported by the FDA, 13 percent of DePuy ASR devices fail within the first five years of implantation compared to the industry standard of 3 percent***. Additionally, in 2010 the company issued a worldwide recall of its DePuy ASR device, as reported by The New York Times, and has led to more than 10,000 lawsuits being filed against the company from patients who were implanted with the device**.
Visit the DePuy webpage and view the infographic: http://www.good-legal-advice.com/depuy-hip-replacement.htm
Have You Suffered A DePuy Hip Replacement Injury?
If you or a loved one has suffered a DePuy hip replacement injury, you may want to speak with a personal injury attorney regarding a potential claim. d'Oliveira & Associates, P.C. is working with some of the leading medical device lawyers in the country who are handling these cases.
Please contact the law offices of d'Oliveira & Associates at 1-800-992-6878 or fill out a contact form for a free legal consultation.
Sources:
*http://www.fda.gov/ICECI/EnforcementActions/WarningLetters/ucm223613.htm
**http://www.nytimes.com/2013/01/26/business/johnson-johnson-hid-flaw-in-artificial-hip-documents-show.html
***http://www.fda.gov/MedicalDevices/ProductsandMedicalProcedures/ImplantsandProsthetics/MetalonMetalHipImplants/ucm241770.htm