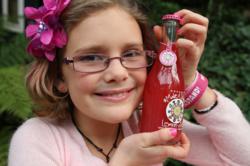 "We give people lemon-aid, they give what's in their hearts, and we free child slaves."
Larkspur, CA (PRWEB) March 04, 2013
As a newly formed "social purpose company," Make a Stand, Inc. SPC (formerly Make a Stand Lemon-aid) has just launched a campaign to raise $200,000 through Fundly, a leading crowdfunding site for social causes. This start-up funding will help "bottle" the fair-trade and certified organic "lemon-aid" later this spring. Eventual net profits from the lemon-aid will go to organizations committed to ending child slavery.
Vivienne Harr, 9, the founder and inspiration for Make a Stand, notes that: "I count every penny because every penny counts. You never know which penny will free a child and change the world!" For her, any contribution, large or small, allows anyone to be part of this historic movement to end child slavery in our lifetime.
"This is the beautiful, democratic essence of crowdfunding: it gives life to companies by the people, for the people," said Eric Harr, CEO of Make a Stand, Inc. "People from San Francisco to Singapore have contributed to this historic Make a Stand movement because it represents hope -- hope that there is good in our world—and that we can be an active and important part of that good."
Vivienne's recent awards and accolades also continue to help build the movement's momentum. Today she attends the East Bay Women's conference, and yesterday she was the first child to ever receive the Interfaith Council of Contra Costa County's "Making a Difference Award." Last month she was a featured speaker at the conference Wisdom 2.0. San Francisco District Attorney George Gascón has also awarded her a Certificate of Honor for her work to end child slavery. Additionally, Make a Stand Lemon-aid was just named Fundly's Most Inspirational Campaign of 2012.
Make a Stand started more then 10 months ago, when Vivienne saw a photo in Lisa Kristine's book "Slavery" of two Nepalese boys, roughly her age, carrying giant slate rocks with straps across their heads. Knowing this was wrong, she was inspired to do something to help. As she says: "Compassion is not compassion without action." For more than 250 days in a row she's been "making a stand" at her lemon-aid stand, rain or shine, where she asks people to "pay what's in their heart."
Although Vivienne exceeded her initial fundraising goal of $150,000 in 2012, she won't stop until her mission is accomplished and child slavery is ended in her lifetime – one bottle at a time. When her parents said: "Honey, you reached your goal. You're done," Vivienne said: "Is child slavery done? Then, I'm not done."
Vivienne calls Make a Stand the world's first "giveness" (instead of a business). "We give people lemon-aid, they give what's in their hearts, and we give child slaves freedom." For more information about the current campaign, visit: http://fundly.com/makeastand-bottling and http://makeastand.com.