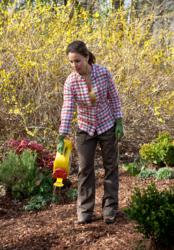 Completing some key early garden tasks can help gardeners "get the worms, not the weeds."
Lebanon, PA (PRWEB) March 06, 2013
In March, as spring breezes and topsoil begin to warm up, it's time to prepare for the growing season by amending soil content, cleaning up winter debris and preventing weeds before they start growing. These early garden tasks can help gardeners "get the worms, not the weeds," say the garden experts at preen.com, a source of seasonal gardening and weed prevention tips.

Amend garden soil now with compost and organic matter. This step improves soil texture making it more hospitable to both garden plants and the earthworms that are so important to overall soil health. Most plants and worms prefer loamy fine- or medium-textured soils rather than soils that are overly sandy, gravely or acidic.
Now is the time to cut back any perennials left standing overwinter to provide food and cover for birds. Use hedge shears to trim ornamental grasses to about 2 inches above the soil surface.
Now is also the time to apply a garden weed preventer such as Preen around established shrubs and perennial beds to stop the earliest-sprouting weed seeds in garden soil or mulch. Many annual weeds germinate with the first hint of spring. An early application of Preen can save many hours of tedious weeding later, as weeds that don't grow in spring don't have to be pulled in summer.
As temperatures rise, watch for new growth on shrubs and roses and remove any winter protection immediately. Clear fallen leaves away from areas where spring bulbs will emerge. Leave tender perennials mulched until new growth begins.
Trees and shrubs may be fertilized now. Sprinkle fertilizer beneath the branches, keeping it 4 to 6 inches away from the trunk or stems.
Apply a fresh layer of mulch around trees, shrubs and other established ornamental plants to help retain soil moisture and prevent weeds. For even stronger weed protection, there's Preen Mulch Plus, the only shredded-wood mulch with pre-emergent weed preventers already mixed in to stop broadleaf and grassy weeds for up to six months.
For more information on gardening and landscaping visit preen.com. Preen is the leading brand of garden weed preventers. Preen products don't kill weeds; they are weed preventers. They stop new weeds from sprouting.