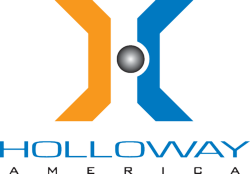 It's great to see people's reactions when they first witness the FASTMOUNT™ Adapter in action.
Springfield, MO (PRWEB) March 06, 2013
HOLLOWAY AMERICA today confirmed that the FASTMOUNT™ Adapter remains the only NA-Connect mounting flange adapter that lets users quickly connect TriClamp™-type equipment to existing NA-Connect or H-CONNECT™ mounting flanges in tanks and pressure vessels. The faster connection capability reduces time needed for changing out instruments, probes, piping, etc., and it increases efficiency and productivity in manufacturing and processing plants.
Sales Engineer Randy Colwell noted production time was a key focus when HOLLOWAY designed the innovative product: "We're pleased the FASTMOUNT™ Adapter has proven so efficient and valuable to our customers, because we strive to eradicate downtime and increase production for them at every opportunity. HOLLOWAY engineered this adapter to solve a specific problem for Genentech, a biotechnology company, and other customers have since seen its obvious advantages and implemented the FASTMOUNT™ Adapter in their facilities."
Colwell stated that HOLLOWAY's better-built NA-Connect mounting flange adapter let Genentech operators save time when bolting and unbolting their connectors, because it allows faster, clamp-and-go connection. The FASTMOUNT™ Adapter also permits easier modifications and ensures the same great cleanabililty, with no dead-legs, that people expected from the original NA-Connect and H-CONNECT™ equipment.
HOLLOWAY AMERICA, which is actually key personnel from both Precision Stainless, Inc. and Holloway Machine Company, has maintained a "commitment to perfection," stated Colwell. That pursuit has led to many innovations in custom fabrication, including the FASTMOUNT™ Adapter that enables quick changes of instruments, probes and piping on traditional NA-Connects.
The FASTMOUNT™ Adapter offers other important capabilities as well:

Converts existing NA-Connect and H-CONNECT™ sanitary mounting flanges to a quick-clamp-type design
Bolts easily and securely to existing NA-Connect and H-CONNECT™ mounting flanges
Offers immediate use of the adapter without the need for vessel modifications, retrofits or tools
As Sales Engineer Evelyn Gayer stated, the product's benefits are clearly evident: "It's great to watch our customers' reactions when they first witness the FASTMOUNT™ Adapter in action. It is often followed by the realization that their own modification and connection processes could be much faster." She recounted an example: During a Factory Acceptance Test (FAT) at the HOLLOWAY headquarters for a vessel that had the traditional NA-Connects already installed, the pharmaceutical company BioMarin saw the FASTMOUNT™ Adapter in use and promptly had them installed on their pressure tank. Gayer added, "It's nice to know this adapter aids so many great companies, including biotech companies like BioMarin, that can help in the fight against serious illness or life-threatening diseases."
For more information about the FASTMOUNT™ Adapter, other tank components or pressure vessels and tanks, contact a HOLLOWAY AMERICA representative at 417.863.0077 or by email at info(at)HollowayAmerica(dot)com.