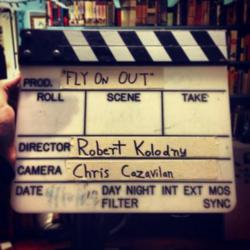 "Having lived in Brooklyn I was able to experience the heart and soul of the community witnessing children playing in the streets with nothing but broken radios and light bulbs," said Kolodny. "I have always been awed by their imaginations."
Wayne, NJ (PRWEB) March 05, 2013
Vision Research, a leading manufacturer of digital high-speed imaging systems, and AbleCine, a leading supplier of professional film and digital equipment, announce that writer/director Robert Kolodny and his film "Fly on Out" is the winner of their "Miro High-Speed Inspiration Challenge."
The "Miro High-Speed Inspiration Challenge" is hosted by AbelCine and Vision Research, which created the contest to provide image-makers from a broad range of disciplines the opportunity to work with the Phantom Miro M320S. The challenge received hundreds of submissions of an exceptionally high quality. However, Kolodny's submission and subsequent film proved to open up new realms for high-speed photography in a unique and artistic way that surpassed all of the others.
AbelCine and Vision Research challenged filmmakers to create a piece of work that showcases the camera's unique capabilities. Applications were judged based on their originality, creativity and relevance to the technology.
"We were looking for high-speed imagery we haven't seen previously," said Rick Robinson, VP of Marketing for Vision Research. "Miro democratizes professional high-speed image capture like never before. Kolodny's film perfectly exemplified what we were looking for: creativity, artistry and most of all high-speed imagery in an innovative and completely unique form."
"Fly on Out" is the story of a little boy in the inner city, who is chased while trying to set a bird free. The overall objective of the film is to portray the boy's struggle and sense of urgency. Kolodny used the Phantom Miro camera to illustrate the chase in a more expressive way by highlighting various everyday idiosyncrasies.
"Having lived in Brooklyn I was able to experience the heart and soul of the community witnessing children playing in the streets with nothing but broken radios and light bulbs," said Kolodny. "I have always been awed by their imaginations."
"The distinctive features of the Miro meshed perfectly with the production set to create truly original and visually stunning film. This camera is in a class of its own," notes Kolodny.
Selecting Kolodny as the Grand Prize winner was a panel of AbleCine and Vision Research experts. As the winner, he receives a brand new Miro M320S camera package, courtesy of Vision Research. Laura Egan and her film "Anchor Me Here" was the runner-up. Additional prizes also were awarded, consisting of AbelCine rental certificates with a combined value of more than $10,000. Click here to view "Fly On Out."
Follow Vision Reseach on Twitter at @PhantomHiSpeed, friend it on Facebook at "visionresearch" or keep up to date with the innovations on the Vision Research blog at http://www.visionresearch.com/blog.
About Vision Research
Vision Research is a leading manufacturer of high-speed digital imaging systems that have proven indispensable for a wide variety of applications, including defense, automotive, engineering, science, medical research, industrial manufacturing, packaging, sports broadcast, TV production and digital cinematography. The Wayne, N.J.-based company designs and manufactures the most comprehensive range of digital high-speed cameras available today; all of which deliver unsurpassed light-sensitivity, image resolution, acquisition speed and image quality.
Over the course of its 60+ year history, Vision Research has earned numerous awards in recognition of its innovations in high-speed digital camera technology and sensor design, including a technical Emmy and an Academy Award®. Vision Research digital high-speed cameras add a new dimension to the sense of sight, allowing the user to see details of an event when it's too fast to see, and too important not to™. For additional information regarding Vision Research, please visit http://www.visionresearch.com.
Vision Research is a business unit of the Materials Analysis Division of AMETEK Inc., a leading global manufacturer of electronic instruments and electromechanical devices.
About AbelCine
AbelCine, established in 1989, is a leading supplier of professional film and digital equipment with facilities in New York City, Burbank, CA and Chicago. Core services include equipment sales, rental and technical service, digital media services and training. The company is the North American agent for Phantom high-speed cameras, as well as an Arri digital camera reseller, Sony Solutions Reseller, Panasonic Specialty Reseller and Canon Professional Production System Reseller. AbelCine also is the first Carl Zeiss Authorized Service Partner in North America and an Authorized Angenieux Service Center. For more information, visit http://www.abelcine.com.
# # #