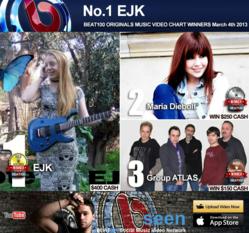 It's been a lot of fun and I've been able to meet a lot of talented and supportive people. I hope I've been able to make connections that will stay with me as I continue on my musical journey!
(PRWEB) March 06, 2013
Another week, another three fantastic winners and yet another three cash rewards gladly accepted by more talented BEAT100 artists. Taking the top prize of $400 this week in the BEAT100 Original Music Video Charts is British-born singer-songwriter Elleni, username 'EJK', for her excellent original song 'Pink Is Not A Colour, It's An Attitude' which received a whopping 4,224 votes and over 22,000 video views from BEAT100 users worldwide. Now living on the beautiful island of Lesvos in Greece, the talented young singer is hoping this is just the beginning of a long and fruitful career in music and was quick to praise the BEAT100 Music Video Network when accepting her prize.
"I first heard of BEAT100 because of the press release from another Greek singer who was a winner a few weeks ago. BEAT100 is great as it brings so many musicians from around the world together. I have met and chatted to many people over the last weeks since I joined, many of which have become friends. It's great to have a social network full of people with a common interest," explained Elleni. "I have always loved music, my parents say even before I was born. I don't remember ever making a conscious decision to become a musician it has always been part of me. I got my first guitar when I was five and have never looked back. I still have a long way to go and many things I want to try. I am lucky to have had a lot of support from my family and from many musicians I have met who have inspired me."
Second Place in the BEAT100 Original Music Video Charts and scooping a $200 cash prize was Maria Diebolt from Fishers, Indiana (USA) with her catchy and original song 'All I Know'. The 14-year-old, who lists Ed Sheeran, One Direction, Cher Lloyd, Bruno Mars and Selena Gomez amongst her biggest influences, already has three of her own self-penned songs on iTunes and has recently shared the stage with popular Indiana-based band, Zanna Doo, on some of their local gigs. BEAT100 users from around the world voted in their thousands to show their appreciation with the 'All I Know' being viewed already over 8,000 times.
"I'm only 14 years old, but I feel like I've already achieved some great things! Finishing #2 in the BEAT100 Originals Chart is amazing and being featured with people from all over the world and finishing that high is unbelievable," Maria explains. "I recorded a demo last year, and it's amazing to me when people ask to buy my CD and ask for my autograph! I'm also honoured to be going on the Teen Nation Tour this spring, where I will join six other teen artists. We will be performing concerts for elementary and junior high school students and we will sing out and speak out against bullying. My vocal coach told me about BEAT100 and encouraged me to participate on the site. He has had other students join the site; they've done very well and he thought I should try it! It's been a lot of fun and I've been able to meet a lot of talented and supportive people. I hope I've been able to make connections that will stay with me as I continue on my musical journey!"
Taking the third prize of $150, in this week's BEAT100 Original Music Video Chart, is Bulgarian pop veterans, Group ATLAS, with their video for their own original song 'Get Yourself Free'. Formed over 25 years ago and known throughout their homeland, the band has steeped in history, and now comprises of Joro Georgiev, Minko Lambov, and Blagovest Zerliev, a.k.a Vesko, who is the vocalist. The distinctive sound is a classic blend of beautiful lyrics and easy listening pop and rock melodies and the song 'Get Yourself Free' is everything you would expect and more from this band; always keeping it simple and creating radio friendly, positive music. After picking up well over 2000 votes by users worldwide on the BEAT100 Music Video Network a third place finish was cemented.
"ATLAS is one of the most popular and successful bands in Bulgaria. We have ten albums and many hits including "The Doll", "The Game is Over", "Autumn Flowers" and "Drop of Love," explains the members of the band. "ATLAS is an old band, with 28 years history, and many prizes in Bulgarian charts and competitions. Three times our songs won "Golden spring", a competition of Bulgarian National Radio. We look forward and continue to make new music. Our new single "Someone" is at this moment on the top of chart of Bulgarian National Radio."
The music industry should expect to hear much more of these bands across the worldwide web, and BEAT100 looks forward to seeing who will top the BEAT100 Music Video Charts next week.
Be Seen – Be Heard – Be Rewarded