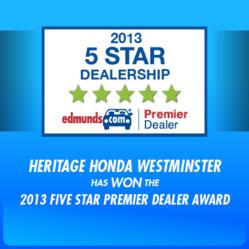 Westminster, MD (PRWEB) March 08, 2013
Edmunds.com, the premier trusted resource for car shopping and automotive information, has honored Heritage Honda Westminster with its inaugural Five Star Premier Dealer Award at the National Automobile Dealers Association (NADA) Convention and Expo in Orlando, Fla. Heritage Honda Westminster is the only dealer in Maryland to win the award, which recognizes dealers who earned the highest marks for customer satisfaction in Edmunds.com's Dealer Ratings and Reviews.
"Edmunds.com believes that customer service should be the number one priority for any dealership that wants to be successful," says Edmunds.com President Seth Berkowitz. "We congratulate the team at Heritage Honda Westminster for creating an exceptional car buying experience and presenting a model for customer satisfaction."
Heritage Honda Westminster is one of just 95 dealerships nationwide to win Edmunds.com's 2013 Five Star Premier Dealer Award. To be eligible for the award, the dealership must have earned an average custer review rating of five stars on Edmunds.com - with a minimum of 20 reviews during the previous two years - as of January 17, 2013.
The full list of Edmunds.com's 2013 Five Star Premier Dealer Award winners can be found at http://edmu.in/TURykC.
Car shoppers can look up the reviews and ratings for any dealer in their area on Edmunds.com's "Find a Dealer" page at http://www.edmunds.com/dealer-reviews/. To see all the inventory and deals available now at Heritage Honda Westminster please log on to http://www.heritagehondawestminster.com/. Or connect from anywhere by following at http://www.twitter.com/HeritageHondaW or becoming a fan of http://www.facebook.com/HeritageHondaWestminster.
Dealers interested in participating in Edmunds.com's Premier Dealer program are encouraged to visit the Dealer Center at http://www.edmunds.com/dealers/ or call 1-855-EDMUNDS.
About Edmunds.com, Inc.
At Edmunds.com, we're committed to helping people find the car that meets their every need. Almost 18 million visitors use our research, shopping and buying tools every month to make an easy and informed decision on their next new or used car. Whether you're at the dealership or on the go, we're always by your side with our five-star Edmunds.com iPhone and iPad apps and our Edmunds.com Android App. Our comprehensive car reviews, shopping tips, photos, videos and feature stories offer a friendly and authentic approach to the automotive world. We're based in Santa Monica, Calif., but you can connect with us from anywhere by following @Edmunds on Twitter or by becoming a fan of Edmunds.com on Facebook.