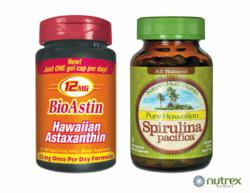 We are proud to continue to showcase our 12 mg BioAstin Hawaiian Astaxanthin, the strongest once per day formula on the market and our high quality Spirulina Pacifica and MD Formulas line
(PRWEB) March 05, 2013
Nutrex Hawaii, manufacturer of BioAstin Hawaiian Astaxanthin and Hawaiian Spirulina Pacifica, will showcase its products and latest research at Booth #2033 during Natural Products Expo West held March 8-10, 2013 in Anaheim, Calif.
In addition to its BioAstin and Spirulina Pacifica products, Nutrex Hawaii will feature these items during the tradeshow:

America's Pharmacist Suzy Cohen will sign her book Drug Muggers on Saturday, March 9 from 2 to 4 p.m.
The updated book The World's Best Kept Health Secret: Natural Astaxanthin by Bob Capelli and Dr. Gerry Cysewski
The latest research on Spirulina and Astaxanthin
New Hawaiian Spirulina recipes
"Guess the Number of Spirulina Super Food Tablets" where Expo West attendees can enter their guess for a chance to win a Grand Prize of a one year supply of BioAstin Astaxanthin and Hawaiian Spirulina. The first prize is an iPad2.
"We are proud to continue to showcase our 12 mg BioAstin Hawaiian Astaxanthin, the strongest once per day formula on the market and our high quality Spirulina Pacifica and MD Formulas line," said Bob Capelli, Vice President Sales & Marketing, Nutrex Hawaii and author of The World's Best Kept Health Secret: Natural Astaxanthin.
Nutrex Hawaii's super nutrient line-up includes:

BioAstin Natural Hawaiian Astaxanthin, 4 mg and once per day 12 mg formulas
BioAstin Supreme (vegan)
Pure Hawaiian Spirulina Pacifica – powder and tablets
MD Formulas condition specific DermaAstin, JointAstin, CardioAstin, EyeAstin and OmegaAstin
All Nutrex Hawaii products are produced on an environmentally friendly 90 acre micro algae farm on the West Coast of Kona, Hawaii. They are pesticide and herbicide free and contain no gluten, lactose, preservatives or solvents.
To learn more about Nutrex Hawaii or schedule an interview, please contact Traci Kantowski at 630-923-0211 or traci(at)nutrex-hawaii(dot)com.
Notes to media:

Interviews available with members of the Nutrex Hawaii team and Suzy Cohen, RPh
Digital images, product samples, signed copies of The World's Best Kept Health Secret: Natural Astaxanthin and Spirulina, and recipe cards are available upon request at the booth or by emailing traci(at)nutrex-hawaii(dot)com
About Nutrex Hawaii
Founded with the goal of harnessing the benefits of microalgae to alleviate malnutrition and promote health, Nutrex Hawaii is the global leader in microalgae production and technology. Nutrex Hawaii is a subsidiary of Cyanotech Corporation, the first microalgae company in the world to obtain quality management standards ISO 9001:2000 certification and is GMP-certified by the Natural Products Association.
###