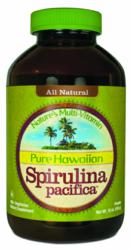 Non-GMO Project Verification reinforces our commitment to producing high quality non-GMO products
Kailua-Kona, Hawaii (PRWEB) March 06, 2013
Nutrex Hawaii, Inc. announced today that its Spirulina Pacifica products have earned Non-GMO Project Verification. The Non-GMO Project offers North America's only third-party verification for non-GMO food and products. Nutrex Hawaii's line of Hawaiian Spirulina products includes tablets and powder and is sold at natural food stores and online at http://www.Nutrex-Hawaii.com. The products will be showcased during Natural Products Expo West at booth #2033.
"Non-GMO Project Verification reinforces our commitment to producing high quality non-GMO products," said Jen Johansen, Vice President of Quality & Regulatory Affairs, Nutrex Hawaii, Inc. "Consumers respect this third-party verification and we are proud that we can now showcase the seal on our labels."
Genetically modified organisms, or GMOs, are plants or animals that are created through the experimental gene splicing techniques of biotechnology. GMOs have not been proven to be safe and may cause health issues. There is no mandatory labeling of GMOs in the US and Canada, where GMOs are present in over 80% of packaged foods.
Hawaiian Spirulina Pacifica is a unique superior strain of Spirulina with the highest known nutritional content in the world. It's all natural, 100% vegetarian and Kosher Certified. It's the only Spirulina cultured in a BioSecure Zone free of herbicides and pesticides on the sunny Kona coast of Hawaii. Hawaiian Spirulina Pacifica thrives in ponds fed with 100% fresh drinking water from Hawaiian aquifers and pure, deep ocean water drawn from 2000 feet below the surface of the Pacific Ocean. This ultra-pure, deep ocean water enriches Hawaiian Spirulina Pacifica with trace minerals, and is a unique natural resource used in the company's patented Ocean Chill Drying™ technology, which ensures maximum nutrient potency.
Nutrex Hawaii is actively working to have all of its product lines Non-GMO Project Verified. Learn more about Nutrex Hawaii products during Expo West by stopping by booth #2033. New research and recipes will also be available along with product samples.
Media Contact: Traci Kantowski at 630-923-0211 or traci(at)nutrex-hawaii(dot)com.
About Nutrex Hawaii
Founded with the goal of harnessing the benefits of microalgae to alleviate malnutrition and promote health, Nutrex Hawaii is the global leader in microalgae production and technology. Nutrex Hawaii is a subsidiary of Cyanotech Corporation, the first microalgae company in the world to obtain quality management standards ISO 9001:2000 certification and is GMP-certified by the Natural Products Association.
The Non-GMO Project is a non-profit organization committed to preserving and building sources of non-GMO products, educating consumers, and providing verified non-GMO choices. The organization offer North America's ONLY third party verification for products produced according to rigorous best practices for GMO avoidance. Learn more about the Non-GMO Project at http://www.nongmoproject.org.
###