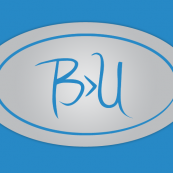 If individuals spent a little time improving themselves in a positive way, the world would become a better place."
Austin, TX (PRWEB) March 07, 2013
B>U represents the philosophy for individuals to spend time each day to try to be greater than themselves. If all individuals adopt the philosophy and lifestyle the greater the world becomes.
The company founded in October of last year began with featured individuals embracing the B>U spirit and a line of tee shirts and caps to purchase to help the cause. Now the founders are creating a broader community through Facebook, lifestyle tips, inspirational stories and motivational quotes. They also like to add some humor and personal narrative into the site to make sure people know the site is real but doesn't take itself too seriously.
The founders hope enough individuals will "join the evolution" to create a marketing brand and community to sustain a profitable company. Founders Matt Evans and Bee May stress philosophy first, profit next. In other words, they say, they hope to inspire and if the inspiration creates a big enough stir to prosper then that just helps to further inspire.
"We truly believe if individuals spend a little time improving themselves in a positive way, the world becomes a better place to live for all," remarks founder Evans.
"We see when anyone goes to the site, reads a story or listens to the concept, they're immediate disciples. So right now it's a matter of getting people to do that. And when you're brand new on the net, it's really tough for people to find you," adds B>U Conductor May.
When asked if the partners have been approached or sought out investors, they just shrug their shoulders.
"We haven't gotten to that point yet to seek investors. If they came knocking on our door, sure we'd listen but right now we're concentrating on building a site that makes you think, laugh and inspires you to be greater than yourself," concludes Evans.
About B>U:
BGreaterThanU.com offers lifestyle tips, motivational quotes and features inspirational stories about individuals being greater than themselves for a better world. For more information, go to BGreaterThanU.com.