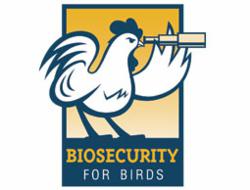 "Show off Your Cute Chickens, Ducks or other Fine Feathered Friends"
(PRWEB) March 08, 2013
Bird lovers with charming chickens, delightful ducks or fine feathered domestic or exotic friends can show them off in an online photo contest sponsored by the U.S. Department of Agriculture's Animal and Plant Health Inspection Service (USDA APHIS).
The USDA's Biosecurity For Bird's Campaign is inviting backyard poultry owners and other bird enthusiasts to compete for bragging rights by entering The Cutest Birds Photo Contest. Send Jpegs (no larger than 2 MB, please) to http://healthybirds.aphis.usda.gov in two categories:
1. Cutest chicken or bird
2. Cutest bird couple or family
The four month contest begins in March. At the end of each month, the best photos will be selected and posted on the Biosecurity For Birds website. Participants can submit up to one photo in each category per month. The winners will be considered for inclusion on the 2014 Biosecurity for Birds Calendar. For an entry form, contest rules and more information visit http://healthybirds.aphis.usda.gov
The contest is part of USDA's Biosecurity For Birds educational awareness program, begun in 2004 to educate backyard poultry owners and exotic bird enthusiasts about highly contagious poultry diseases, such as avian influenza (A1) and exotic Newcastle disease (END) and other threats to birds. The program helps inform bird lovers how to prevent disease and tells them what to do if they suspect their birds are infected.
-30-
Media representatives may contact Joelle Hayden at joelle.r.hayden(at)aphis(dot)usda(dot)gov (301) 851-4040 or Pam Goldstein at pgoldstein(at)diversitymc(dot)com 973-377-0300, Ext. 14